More than you want to know about my experiences with the Honda Insight gas/electric hybrid automobiles!
This site is not affilated with the fabulous Honda Motor Co., Inc.
An Era Ends for Insightman
November 8, 2019—Sigh, I just sold my 2006 Insight to a worthy second owner, who has a pair of ZE1 Insights to keep it company. It was wonderful to be able to drive a 2000 Insight and a 2006 Insight over a span of 20 years. However, I just couldn't keep using this rare 13-year old hallmark of automotive engineering as a daily driver. Thank you, Honda, for creating this car and selling it for 7 years. It's too bad the US doesn't get it when it comes to conserving the non-renewable petroleum resources this car is so good at maximizing. I doubt I'll ever find a car that can take its place.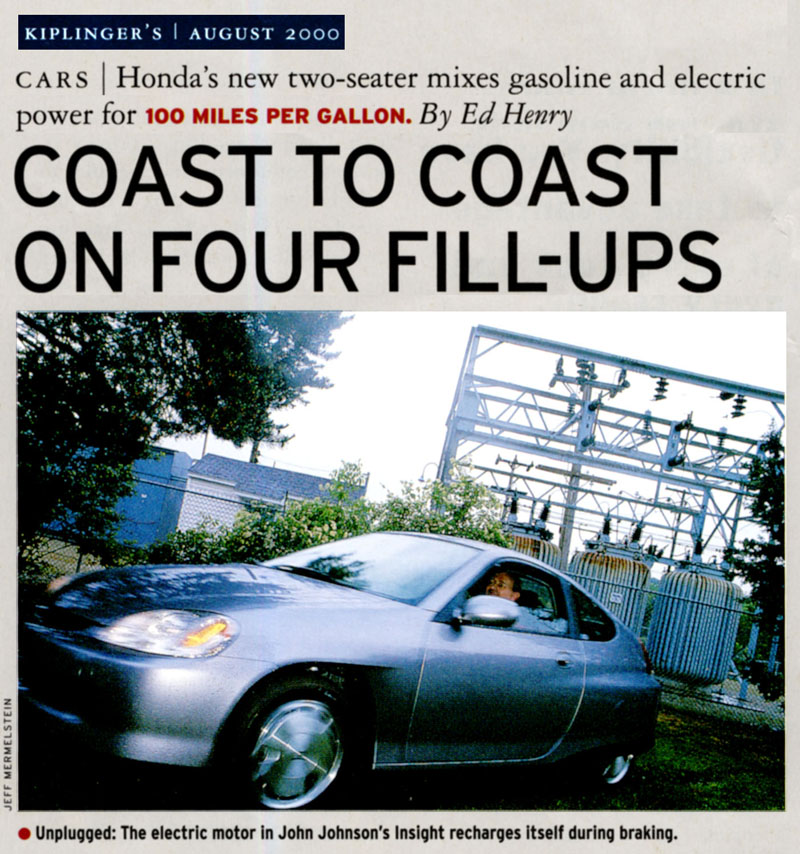 In July, 2000, Kiplinger's Magazine writer Ed Henry and photographer Jeff Mermelstein flew from
Washington D.C. to Michigan to see my Honda Insight, which was the first of its kind sold east of
California and Oregon. Ed Henry asked if this new wonder-car could get 100 miles per gallon and
I said yes, I could achieve 100 MPGs if I drove it very slowly. He took that number and ran with it.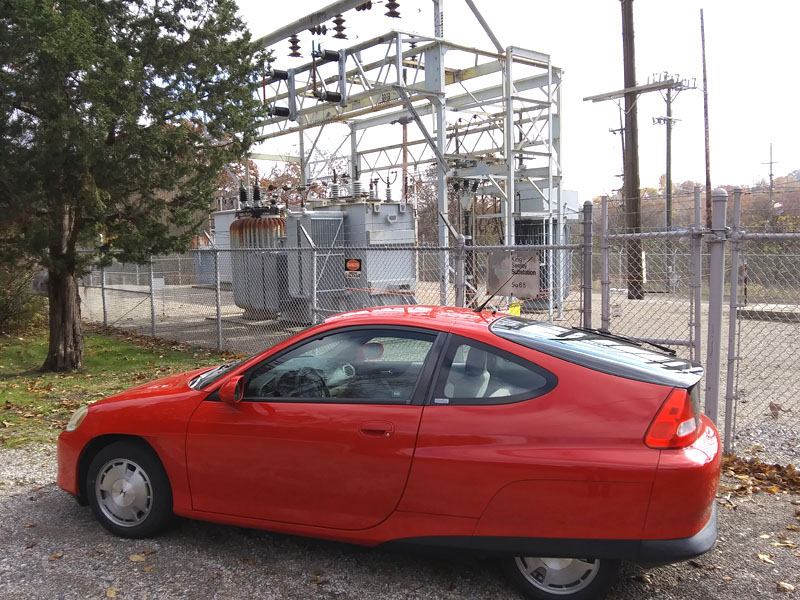 Twenty years later, on our last drive together, my second Honda Insight—one of the very
last ZE1's to be manufactured—visits the site of the Kiplinger's Magazine photo shoot.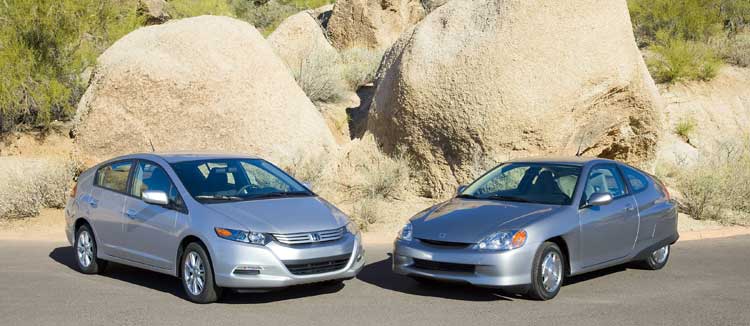 The Vintage Honda Insights
The 2019 Honda Insight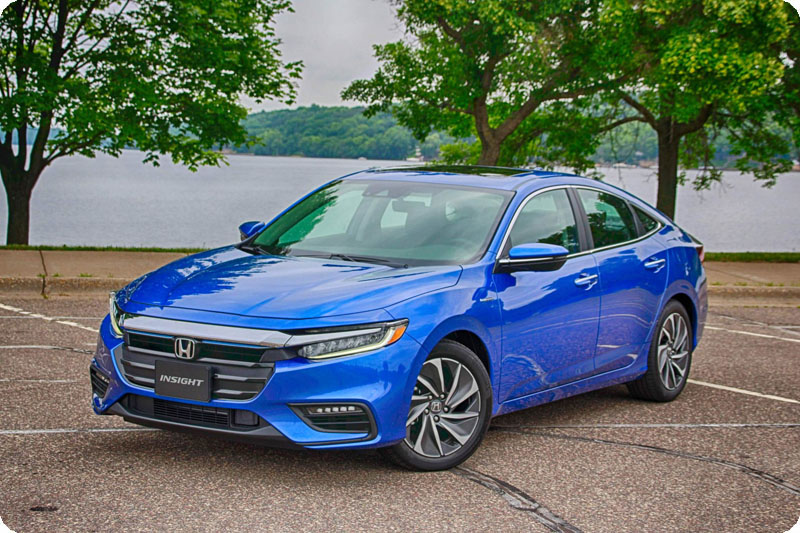 2019 Honda Insight in Aegean Blue Metallic, Touring Trim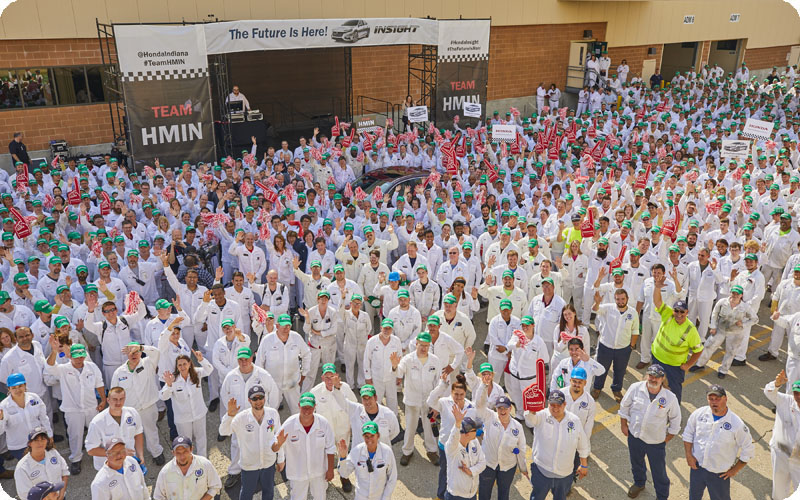 May 2018: Honda Manufacturing of Indiana manufactures its first 2019 Insight!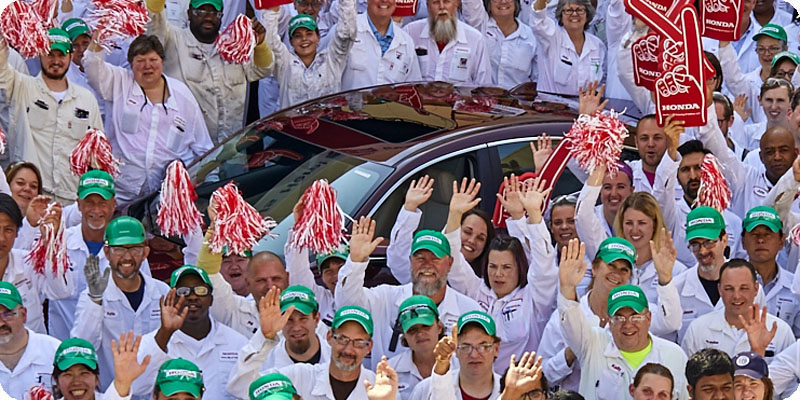 Yes, there is an Insight in that photo—the moonroof shows it's a Touring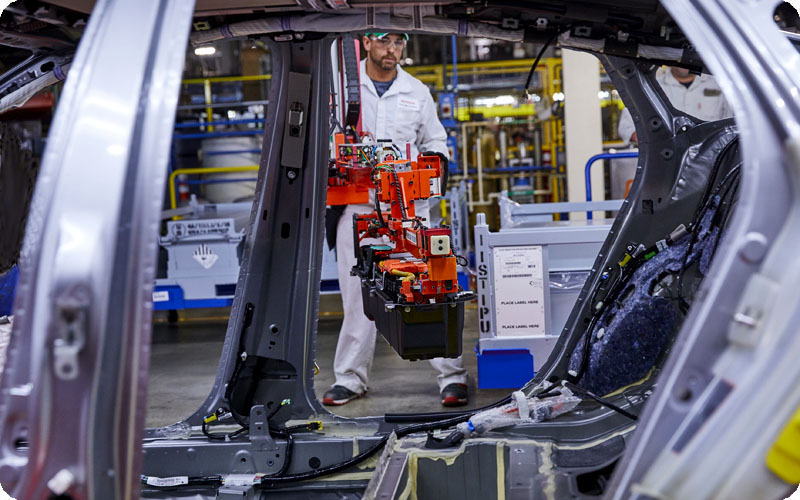 "Everybody else gets to party while I'm stuck here installing batteries"

Here's a production 2019 Insight Touring in white (great wheels!)
The LX/EX models achieve 55/52 mpg city/combined; the heavier Touring, 51/48

2019 Insight 17" alloy Touring wheels and 16" alloy EX/LX Wheels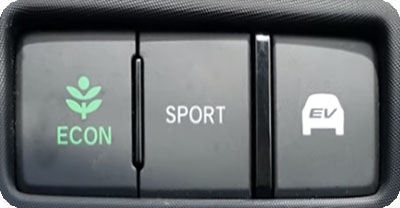 2019 Insight Mode Buttons (Clarity owners wish they had an EV button, too)

THIRD-GEN INSIGHT BREAKS COVER

And yes, Virginia, as shown on Honda's website, it will, indeed, be called "Insight"!
Here's Honda's January 11, 2018, pre-NAIAS press release, which reveals that the 3rd-generation Insight will have "an anticipated EPA fuel economy combined rating in excess of 50 mpg." So, as with the 2nd-generation Insight, Honda will be emphasizing something other than maximum fuel economy to make the 3rd-generation Insight attractive to potential customers. The company will leave the Hyundai Ioniq and the Toyota Prius to fight for the top spot in the EPA fuel-economy ratings.
The new Insight will be smaller and lighter than the outgoing 49-mpg Accord Hybrid, so it will be surprising if it actually achieves only 50 mpg. However, if it can manage 50 mpg and get to 60 mph faster than the Civic Si's 6.5 seconds, this great-looking car will be a runaway success.
The question is whether the exact same 103-hp, 1.5-liter Atkinson-cycle engine and 181-hp electric traction motor from the Clarity Plug-In Hybrid will also serve as the powertrain for the new Insight. The 4,000-lb Clarity Plug-In Hybrid takes around 9½ seconds to get to 60 mph. The Insight's body and battery will be lighter; if Honda can keep the weight of the new Insight to around 3,200 lbs, it could be the quickest 4-cylinder hybrid around, but probably not Civic Si-quick.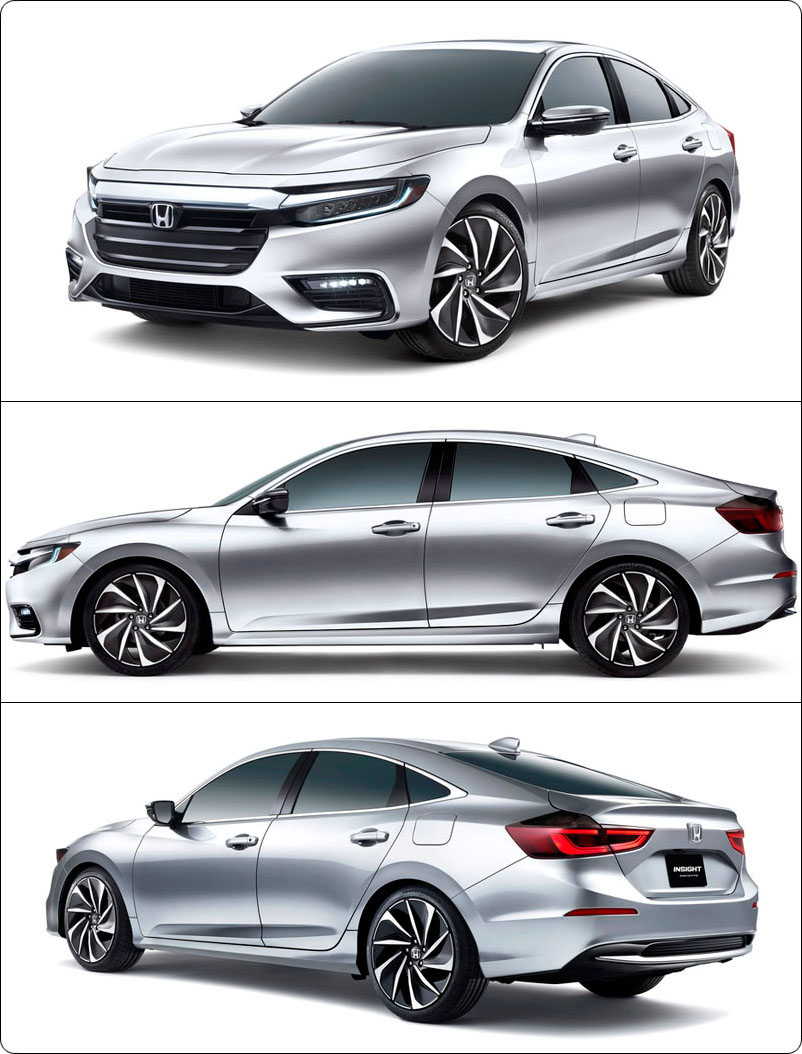 Here's Honda's December 19, 2017 press release about the new (ZE3?) Insight. The press release says, "…the all-new model will be powered by Honda's two-motor hybrid system offering fuel economy that is competitive with other compact hybrid models." Sounds like fighting words to me. I expect Honda will crank up the MPGs to demonstrate the ultimate capabilities of their i-MMD two-motor hybrid system and return the name Insight to the top the EPA's list of fuel-efficient hybrids. This is really exciting!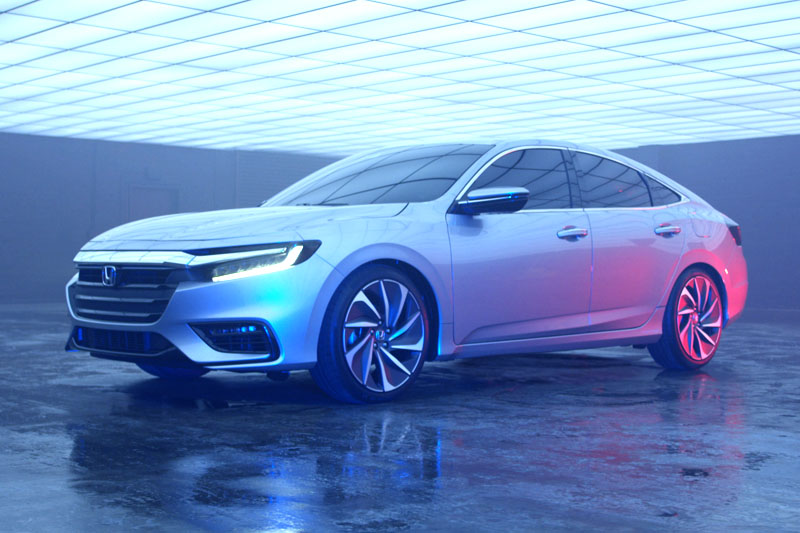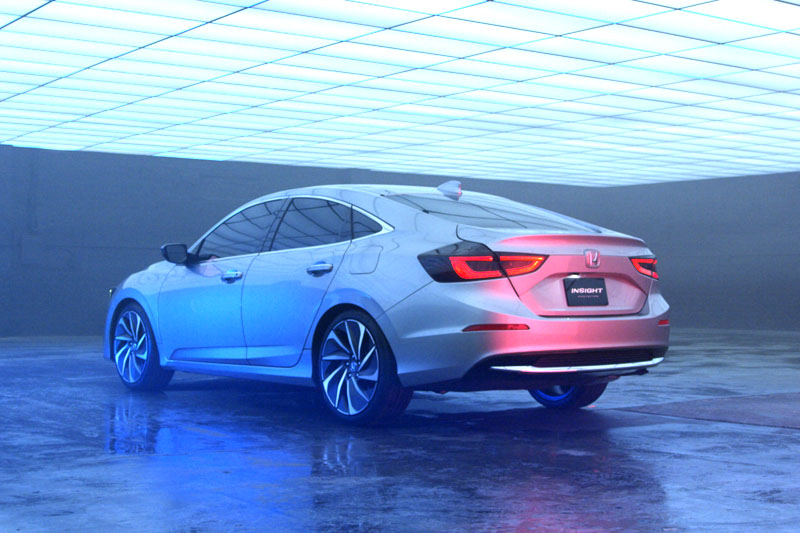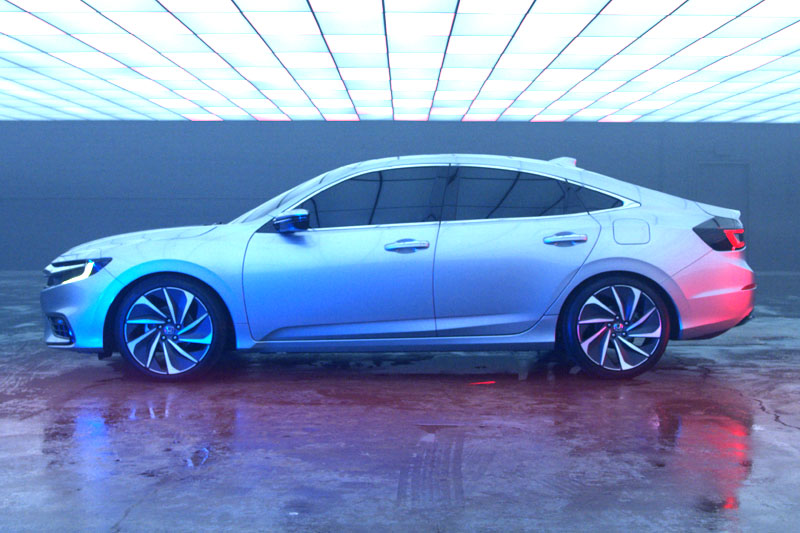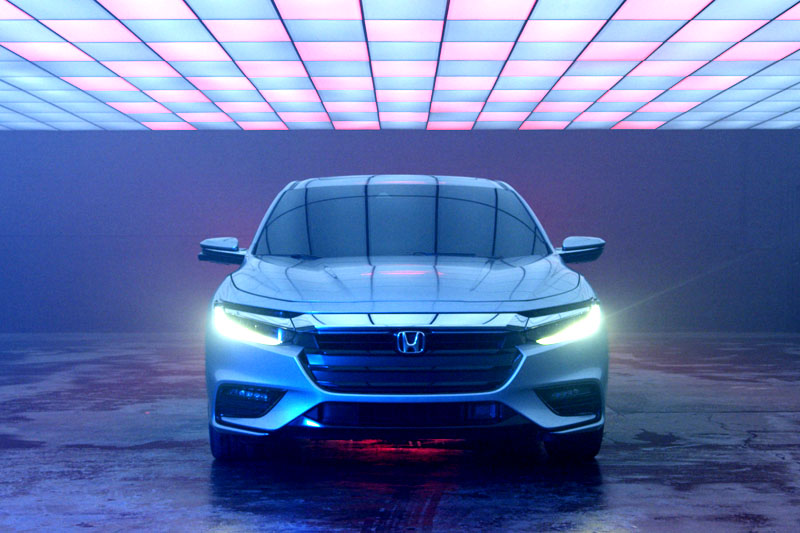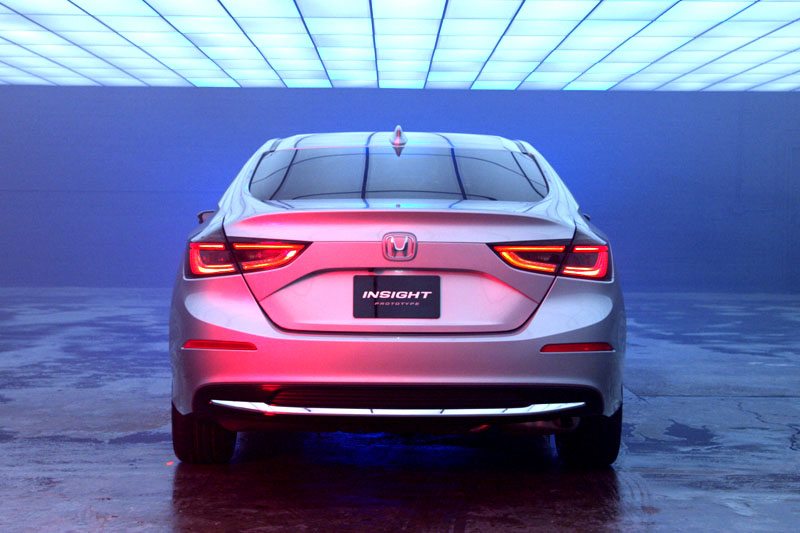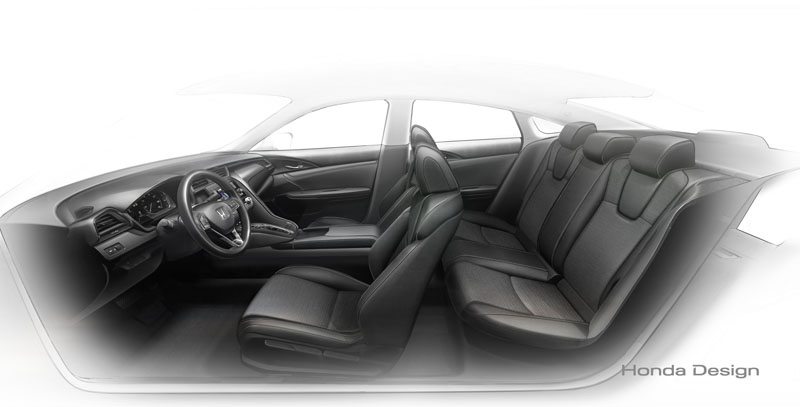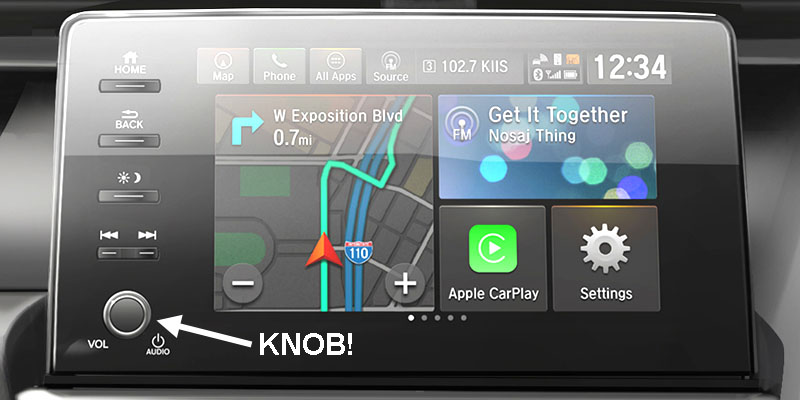 The North American International Auto Show opens to the public on January 20, 2018. I can't wait!
January 2017 News: A New Insight for 2018?!?!
Honda's 2018 i-MMD 2-Motor Hybrid Powerplant
The Announcement
On January 9th, at the 2017 North American International Auto Show, Honda Motor Co. President and CEO Takahiro Hachigo announced Honda's plans to introduce a new US-built dedicated hybrid vehicle in 2018 (see Honda's press release). He did not reveal the name of the new dedicated hybrid, but of course, it should be called "Insight."
Background
After the disappointing numbers of second-generation (ZE2) 2010–2014 Insights sold, some might believe that the Insight nameplate has lost its lustre. Indeed, due to the tiny number (less than 15,000) of the lustre-generating, ground-breaking, original (ZE1) Insights produced, the legend of this fabulous model is not well-known to the public in general.
The ZE1 was Honda's proof-of-concept that showed off their materials engineering, aerodynamic design, and electric motor technologies. It was never meant to be a high-volume vehicle. Indeed, Honda sold the ZE1 for much less than it must have cost to build this all-aluminum car. The goal of Honda's Fit-based ZE2 Insight was become the more popular, lower-cost, hybrid alternative to the Prius. However, the ZE2 wasn't a lot less expensive than a Prius and it couldn't match the Prius' fuel economy. Sales never met expectations and Honda gave up on the ZE2 in 2014. The CR-Z, a very low-volume 2-seat sports-car variation on the ZE2, remained in production until 2016.
At that point, Honda's "mild-hybrid" IMA system had run its course. Although it worked fabulously in the 1850-lb all-aluminum, ultra-aerodynamic, two-seat ZE1, it couldn't compete with Toyota's Hybrid Synergy Drive in a larger, heavier vehicle. Again, the world had to soldier on without the Honda Insight.
No Longer "Mild"
While the IMA system slid beyond the automotive horizon, Honda wasn't standing around doing nothing. The company developed an elegant 2-motor "full-hybrid" system, named Intelligent Multi-Mode Drive (i-MMD), to replace the IMA system. i-MMD was much simpler than Toyota's Hybrid Synergy Drive, which also made it lighter.
One of the brilliant features of the i-MMD system is that it essentially has no transmission! Instead, it incorporates the function of a mechanical Continuously Variable Transmission (CVT) into the electric-motor mechanism. The i-MMD's E-CVT transmission produces far less friction than conventional transmissions, which, paired with its lighter weight, helps to improve fuel efficiency.
This YouTube video from Honda demonstrates how the i-MMD works. This Car and Driver article describes it in more detail.
i-MMD Comes to Market
Honda's i-MMD system first appeared in the 2014 Accord Hybrid, and in the rare one-year-only 2014 Accord Plug-in Electric Hybrid Vehicle (PHEV). Not satisfied with its first i-MMD iteration, Honda halted Accord Hybrid production after 2015. The i-MMD system was improved, production was moved from the US to Japan, and a more fuel-efficient Accord Hybrid returned for the 2017 model year.
The Accord PHEV did not return. Instead, Honda decided its new Accord-sized Clarity line of cars would include a PHEV along with the Clarity Fuel Cell and Clarity Electric vehicles. Of the three Clarity variants, only the Plug-In with it's anticipated 40-mile electric-only range will be available in all 50 states. It's expected to begin arriving at dealers in late 2017. I had my garage wired for 240-volts in anticipation of the Clarity Plug-In months before Honda's announcement of their new dedicated hybrid car.
What is this New Dedicated Hybrid?
Now for some speculation about the new Insight. Consider these facts:
Honda already makes an i-MMD Accord, so the new dedicated hybrid won't be Accord-sized.
Honda does not manufacture the smaller Fit in the US.
Honda does manufacture Civics in Greensburg, Indiana.
Honda hasn't offered the IMA-based Civic Hybrid since 2015.
Based on this list, it's easy to presume that Takahiro Hachigo's upcoming US-built, i-MMD-based dedicated hybrid will be derived from the Civic.
So why doesn't Honda just stick the i-MMD system into the current Civic to create a new Civic Hybrid? The answer has to be because a new Civic Hybrid wouldn't achieve Honda's goals. The primary goal of hybrid technology is to increase fuel efficiency. Because hybrid technology increases manufacturing costs, Honda's new dedicated hybrid needs to offer significantly higher gas mileage than the already efficient Civic to justify the increased costs. To further increase fuel efficiency beyond what the i-MMD powerplant alone would provide, the new dedicated hybrid will need an even more aerodynamic body and, ideally, special components (such as aluminum or composite doors, fenders, and hood) to reduce the vehicle's weight.
While the ZE2 Insight was still in production, Honda and other manufacturers were able to develop non-hybrid automobiles that approached the ZE2's 43-mpg rating. Now, 18 years after the first Insight, the hybrid marketplace is much more crowded. It's not just Honda and Toyota anymore. Indeed, the 2017 Hyundai Ioniq Blue hybrid has wrested the EPA crown away from the Prius by posting a combined city/highway figure of 58 mpg.
Would Honda bother to bring a new dedicated hybrid automobile to market that costs more than a Civic but gets only marginally better gas mileage? Will Honda be content to watch more companies slip into the EPA's list of most efficienct hybrids above them? I don't think so.
With Honda's reputation for unparalleled engineering, the "go big or go home" paradigm now applies. The new Insight must hit the ball out of the park and put Honda back on top of the EPA's list of fuel-efficient cars. If the bean-counters balk at the cost of getting back to the top of that list, Honda should offer a special version of the new Insight that can plant its flag atop the MPG mountain, leaving the also-rans gasping for oxygen.
Don't Forget the Hypermilers!
Assuming Honda does what is necessary to get their new hybrid automobile to the top, there is a way they could make their new Insight legendary. They should accommodate the most fervent fuel-efficiency enthusiasts: the hypermilers. Sure, it will be great if the new Insight can get a 65-mpg EPA rating, but it could be capable of so much more.
Honda knows that many motivated hypermilers are able to push their 53-mpg (EPA post-revised downward) ZE1 Insights gently beyond 80 or 90 mpg. Some expert hypermilers have exceeded 150 mpg!
Somewhere at Honda, an engineer is driving a "mule," a test car (probably a Civic) that is fitted with the powertrain for the company's new dedicated hybrid automobile. On the seat next to that engineer is a laptop computer he or she can use to adjust every aspect of the car's performance and see the results of those adjustments. Oh, what exhilaration hypermilers would derive from having that kind of control over their vehicles!
Of course, Honda cannot encourage distracted driving with hypermilers typing on laptop computers, but I believe Honda should find better ways to cater to the hypermilers. Make available special tools that enable drivers to push the new hybrid far beyond its nominal EPA-rated fuel economy. Unlike high-speed drivers, hypermilers are actually safer drivers because they are cautious and hyper-alert to every aspect of driving—they should be encouraged. Let them be involved and be rewarded for their involvement. Enable them to meld their intelligence with that of the i-MMD system!
Give the drivers who want more control the ability to:
Initiate recharging, and how aggressively it takes place (while going downhill)
Activate electric motor support on demand (to maintain momentum over a small hill)
Turn off the engine when it will temporarily not be needed (while coasting)
Every capability listed has been available for years to ZE1 owners willing to modify their Insights. Hypermiling competitions now must be divided into modified and unmodified classes because these capabilities increase fuel efficiency so effectively. Sure, not everyone who buys Honda's 2018 Insight will want to be so involved with their mobility, but these capabilities could be options.
At the very least, Honda should make these interactive capabilities possible and then let Mugen or some other Honda-trusted aftermarket developer create accessories that enable these capabilities. If necessary, tell drivers the accessories will void their warranty. There will still be many who want to stretch their fuel efficiency to the max. The resulting publicity could be very positive for Honda.
The Time is Right for a New Insight
My wonderful 70-mpg 2006 ZE1 is getting old; I'm ready for a 2018 Insight I can push beyond 150 mpg!
InsightFest 2016 August 26–28
Honda may have given up on the amazing Insight ZE1, but the loyal people of Insight gathering for InsightFest 2016 will never let it die!
InsightFest 2016, took place at the home of the gracious host, Gerald. Gerald is also the premier Insight collector—he owns 35 original Insights! He made his gorgeous farm north of Indianapolis, Indiana, available for the event. The perfect venue for such a gathering, Gerald's spread includes a large parking area where more than 70 Insights (including his 35) were on display. He has multiple garages where Insight fanatics from around the world exchanged information, observed repair techniques, and demonstrated numerous modifications such as lithium-ion battery pack replacements, use-all-watts-now autocross mode, hidden trailer hitches, and battery-pack maintenance systems.
Honda fully supported the event by sending a representative from California, bringing Insight T-shirts to pass out, and supplying funds for food. So the IMA crowd could experience Honda's next-generation 2-motor hybrid system, Honda made a new 2017 Accord Hybrid available for test drives.
Insightman's Manifesto, February 25, 2014
Honda has given up on the Insight—again. Bloomberg News reported today that the company has told its dealers that production is to be discontinued this month and they are to take no new orders.
The Insight Classic, the inspirational first hybrid in the United States, was designed in 1998 and brought to market in 1999. More than 15 years have passed and still there is no car sold in the U.S. that can exceed the fuel economy of that original Insight. Unless, of course, you allow plug-in hybrids to pretend electricity downloaded from the grid isn't what enables their spectacular effective gas mileage.
Honda stopped production of the Insight Classic in 2006, when they shut down the assembly line that manufactured the Insight, the Honda S2000 sports car, and the Acura NSX supercar. Meanwhile, Toyota continued to improve their hybrid, the Prius—a strategy which rewarded them with a loyal following and increasing sales figures. The Prius achieved the kind of cult status the all-but-secret Insight Classic never did.
Feeling like they were missing out on the hybrid market they originated, Honda decided to take on the Prius with a New Insight, but instead of demonstrating their technological superiority, Honda went for a cheap alternative. Downplaying the value of fuel economy, the company created a Prius look-alike they believed would steal Prius sales by offering it for a few thousand dollars less than the cost of a Prius.
Sales figures proved Toyota right and Honda wrong. The New Insight is not a bad car. My wife drives one and likes it—the EPA says her 2010 model can achieve 43 miles per gallon. However, the reason people are willing to pay more money for a hybrid automobile is to get significantly better fuel economy. There are many non-hybrids now approaching the New Insight's gas mileage figures, while the Prius and even Honda's much larger Honda Accord hybrid, can get upwards of 50 miles per gallon. After a couple of years of slow sales, Honda made some improvements to their New Insight, bumping up the gas mileage a full mile per gallon, to 44 mpg. Sales remained anemic.
The idea behind the Insight Classic was exciting—in a high-tech kind of way. After seeing Honda's hybrid prototype at the 1999 auto show in Detroit, I drove my Honda CRX (keeping my speed down to a gas-saving 55 mph) directly to my local Honda dealer and placed a deposit for a hybrid car that didn't even have a name yet. A long 380 days later, my beautiful silver 2000 Honda Insight—it was #221, the first Insight delivered in the mid-west—arrived at my dealer on a small enclosed truck.
I really enjoy driving Honda's brilliant Insight Classic. EPA rated at 70 miles per gallon, I found I could actually achieve more than 100 miles per gallon by driving carefully. Using more extreme driving techniques, Wayne Gerdes (www.cleanmpg.com) and friends once drove an Insight Classic 2254.4 miles on a single 10.6 gallon tankful of gasoline! Try to match that in a Prius.
I sold my 2000 Insight Classic only so I could purchase the final version of the Insight Classic in 2006, before Honda closed this chapter in automotive history. I still enjoy milking every mile I can from the expensive gallons of gasoline I buy on my bothersome monthly visits to the gas station.
For more than 40 years I've been a Honda car and motorcycle owner because I appreciated the company's philosophy of creating efficient, fun-to-drive vehicles. I am very disappointed that my favorite company has re-classified the idea that became the Insight as an unsupportable business case.
Combining the aerodynamic and lightweight construction technologies employed in the 70-mpg Insight Classic with Honda's new engine, transmission, and hybrid technologies, I believe they could easily design and build a limited-edition 100-mpg car that would put Honda back at the top of the EPA's high-mileage list, where they belong. It would serve as Honda's "halo" car, demonstrating their automotive engineering superiority to the world. Of course, that car would be called, "Insight."
But those "Earth Dreams" are now on hold; Honda has given up on the Insight—again.
—John E. Johnson, Insightman



Note: Items below are from before 2010, when I was still enthusiastically updating this web site. I apologize for the years of neglect, but there has been little to write about since Honda decided to freeze the design of the Insight rather than make the changes required to turn it into successful competitor for the Toyota Prius.
ETA Names Insight as "Green Car of the Year"
June 17, 2009. The United Kingdom's Environmental Transport Association has named the 2010 Honda Insight as their "Green Car of the Year." The 2010 Insight topped the list of more than 1,300 vehicles the ETA evaluated. The ETA says, "Our aim is to raise awareness of the impact of excessive car use and help individuals and organisations to make positive changes in their travel habits." Clearly, Honda and the designers of the new Honda Insight share those goals.
Car and Driver Likes Insight Best
The July 2009 issue of Car and Driver includes a comparison test written by the very experienced John Phillips entitled, "Mileage Maestros," that compares the 2010 Honda Insight with the 2010 Toyota Prius. For kicks the magazine included a 1998 Geo, er Chevrolet, Metro in the comparison, too. The testers did not try to get good gas mileage. They drove the cars the way they always drive cars: with a heavy foot on the accelerator. Fortunately for the Honda Insight, the testers also rated the cars the way they always rate cars, basing the results on many factors other than just gas mileage.
On the Car and Driver points system, the Metro rated 100 points, the new Prius rated 165 points, and the Insight topped out at 181 points. The Insight outpointed the Prius with better driver comfort, ergonomics, interior styling, exterior styling, as-tested price, transmission, performance, steering feel, brake feel, handling, "gotta have it," and "fun to drive." The Prius bested the Insight on rear seat comfort, rear seat space, cargo space (I guess behind the rear seat because with the rear seat folded, the Insight would win), features/amenities, quarter-mile acceleration (17.6 seconds @ 79 mph vs 17.9 seconds @ 78 mph), fuel economy (42 mpg vs 38 mpg), ride, and on engine noise/vibration/harshness.
Car and Driver didn't like the Prius' "wallowy handling, numb steering, brake pedal connected to mush," and appreciated the Insight's "attractive price, some semblance of handling, good steering feel." It's a very interesting real-world comparison--pick up the July Car and Driver to get the full story (ie., not just the parts I liked). BTW, the 11 year old, 1840-lb Metro matched the Prius' 42 mpg, but don't ask how it would fare in a crash without the safety features found in the other two cars.
A Grand Day at the Honda Insight Homecoming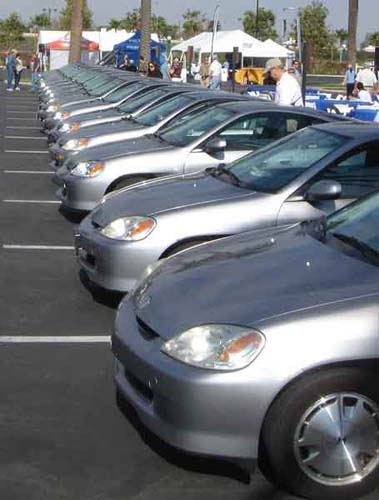 April 22, 2009. Insight owners gather at the Honda Center in Anaheim, California on Earth Day. Click the photo for a report and more photos.
A Visit to the Root of the Insight Family Tree
April 21, 2009. Before the Honda Insight Homecoming, an encounter with the seminal GRX. Click the photo for the story.
A Complete Set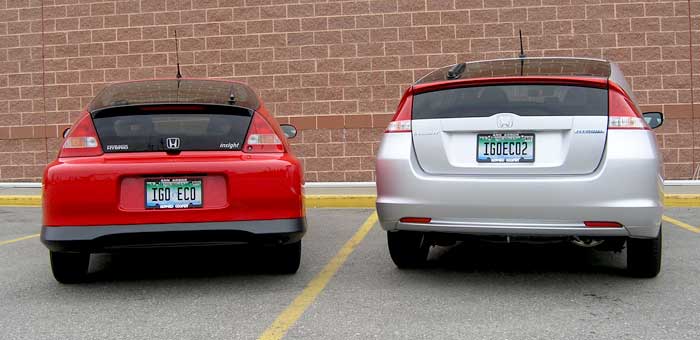 April 18, 2009. Now that my wife has her own Insight, it's an all-Insight family living at the Insightman home. She's surrendered the driver's seat only once so far. In my brief stint behind the wheel I averaged 60 mpg at 48 mph on a cold spring day. Clearly, the EPA's 40/43 mpg estimates are a bit on the conservative side.
Second 2010 Insight Commercial
Hard to believe, but this entire commercial was made with automobile headlights!
The Making of the second 2010 Honda Insight TV ad
Insight Supply Lines Are Open
The Boat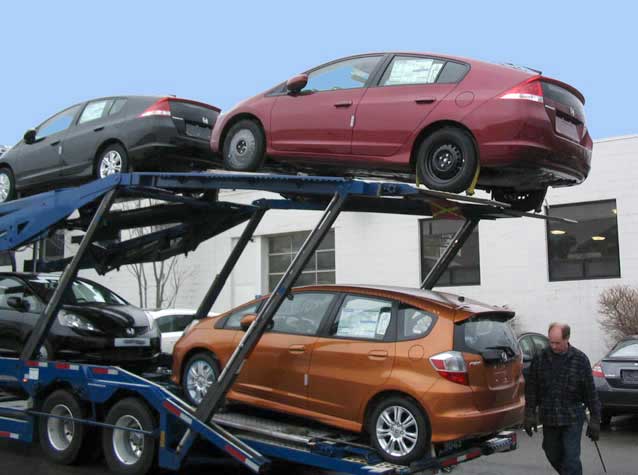 An Insight EX and an LX arrive at Howard Cooper Honda in Ann Arbor (photo by Brad Stegemann)
March 25, 2009. Carriers now arriving at Honda dealerships across the United States are delivering 2010 Insights. If you're lucky, you'll soon see one driving down the street. If you're very lucky, you'll be the one doing the driving.
Official Honda 2010 Insight Website
March 23, 2009. A few months ago Honda introduced a personal-style blog to let people know about the coming breakthrough in affordable hybrid vehicles. It provided access to information from Honda personnel involved with the creation and marketing of the 2010 Honda Insight. But now, just before the 2010 Honda Insight goes on sale in the U.S., Honda has unveiled an amazingly comprehensive website to provide information about this car. The Latest Insight blog is still there, but the expanded website employs the full capabilities of the internet to convey information about every aspect of the 2010 Honda Insight. Check it out--you'll spend a long time there: 2010 Honda Insight Hybrid - Official Honda Web Site.
First 2010 Insight Commercial
The first 2010 Insight TV ad shows a beach-full of Insights
March 12, 2009. The New York Times has an interesting story about Honda's 2010 Insight advertising campaign, conducted by the agency RPA in Santa Monica, California. An announcer in a commercial declares, "The hybrid for everyone is here," and concludes: "The Insight. Designed and priced for us all. From Honda." Read about the ad campaign in the New York Times article.
The first 2010 Honda Insight TV ad
The first Insight billboard (the poor little Insight Classic never got its own billboard)
And the first 2010 Insight print ad (click it for big)
Honda Announces 2010 Insight Pricing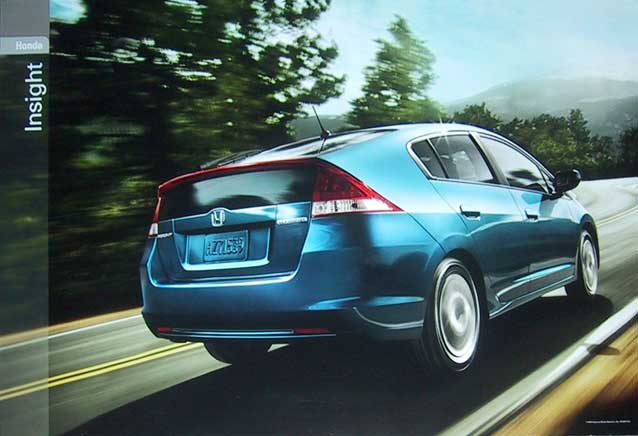 The first official 2010 Honda Insight poster
March 10, 2009. Finally, the most important numbers have been revealed! As expected, Honda sets a new standard for affordable hybrid autombiles. The LX costs $19,800 and the EX (which includes Vehicle Stability Assist and a bunch of nice amenities) goes for $21,300. The Navi option for the EX adds $1,800 for a total price of $23,100. The standard destination charge adds $670. Here's a link to Honda's press release.
In an unrelated story, Toyota has for some reason decided to continue selling the expensive 2009 Prius hybrid in Japan after the even more expensive 2010 Prius III goes on sale later this year.
Official Honda 2010 Insight Accessories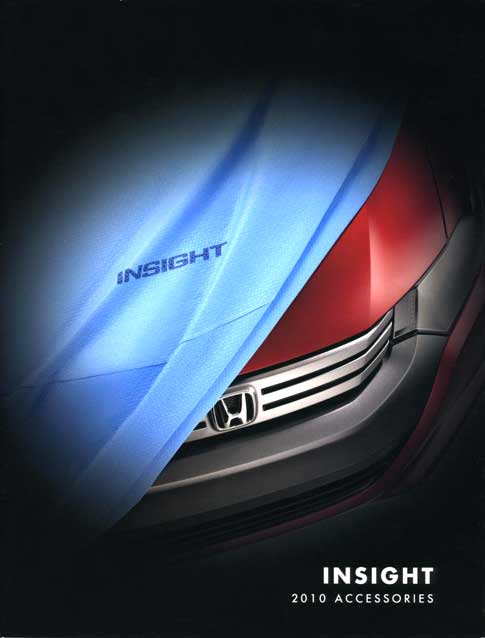 March 9, 2009. Honda has released to dealers a catalog of official accessories for the 2010 Honda Insight. The big surprise is the XM Satellite Radio, which was not on the list of expected accessories when the production version of the Insight was presented at the North American International Auto Show in January. Click here to see the accessories.
Asimo Introduces the New Insight in Geneva
Honda's amazing robot, Asimo, introduces the 2010 Insight at the 79th International Motor Show in Geneva, Switzerland.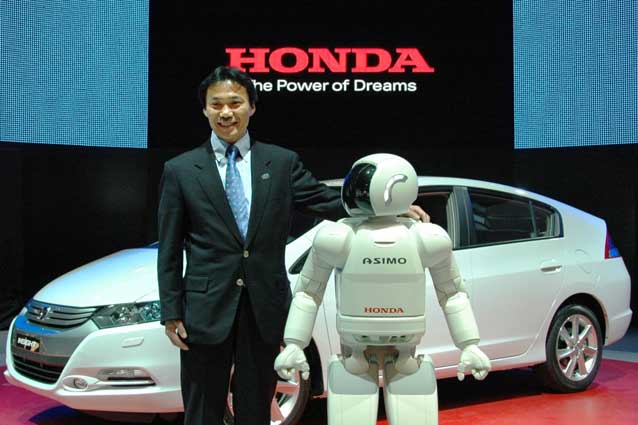 Asimo looks up to Honda's amazing Insight project leader, Yasunari Seki.
Insight Stars in Watchmen Film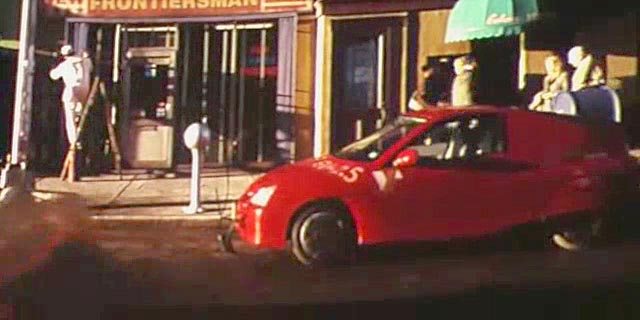 OK, it's not exactly starring, but this thinly disguised Insight Classic appears at the end of the new Watchmen film.
Creating a New Insight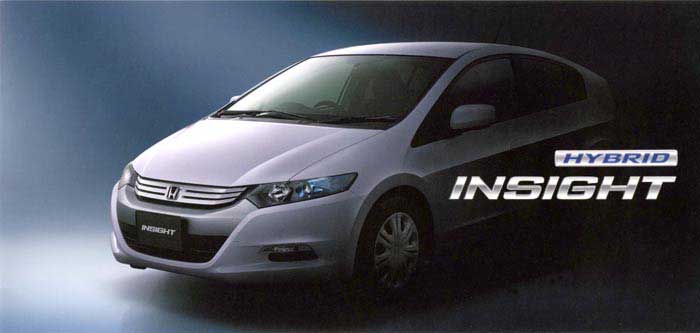 Click here to see images from the development of the 2010 Insight.
2010 Insight in Miniature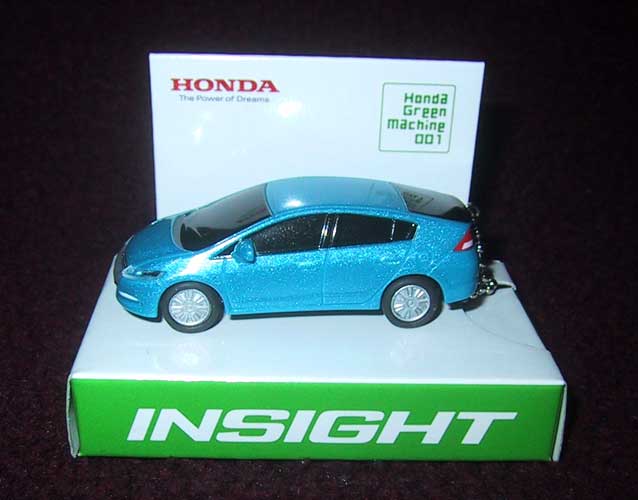 Here is a nifty 2010 Honda Insight keychain that Honda has created to promote their wildly successful new hybrid in the Japanese market. It's so cute--a tiny switch on the underside of this 2-1/2" model turns on a pair of LED headlamps! Once again, our thanks to our Japanese friend and frequent contributor, viento 1001!
Gorgeous Japanese "Honda Green Machine 001" Brochure
Click on the image above to see the simply beautiful Japanese brochure for the 2010 Insight, courtesy of viento 1001.
Is the Honda Green Machine 001 phrase part of a global campaign for Honda's "global small hybrid" or will the American Honda Motor Co., Inc. develop their own catch phrase? Sources (thank you again viento 1001) say that Honda's FCX Clarity fuel-cell car is Green Machine 000 and the Civic Hybrid is Green Machine 002. Perhaps the upcoming CR-Z hybrid sports car will be Green Machine 003. The campaign appears to be wildly successful, with 15,000 Insights sold in about two weeks, which is triple Honda's estimated monthly sales figures. Honda is responding by increasing Insight production.
Takeo Fukui Names Takanobu Ito as New Honda President and CEO
Takanobu Ito (left) to assume the duties of Takeo Fukui (right).
February 27, 2009: Insightman.com congratulates and welcomes incoming Honda president, Takanobu Ito, and thanks outgoing president, Takeo Fukui, for his service as an able leader in these difficult times for the autombile industry. Mr. Ito, who is already president of Honda R&D Co Ltd., will retain that position and add the title of president of Honda Motor Co Ltd. to his business card. A 31-year veteran Honda employee, the 55-year old Mr. Ito is a true "Honda Man." He sometimes rides a Honda motorcycle to work. Of interest to visitors to this website, Mr. Ito talked about developing a vehicle that triples gas mileage. Insight.com's suggestion to Mr. Ito is to first create a special high-efficiency version of the new Insight for those who don't mind paying a bit extra to drive the most fuel-efficient car on the EPA charts. Here's a very good report of the press conference introducing Mr. Ito from Tech-On!.
February 16, 2009: Honda Sells 10,000 Insights in 10 Days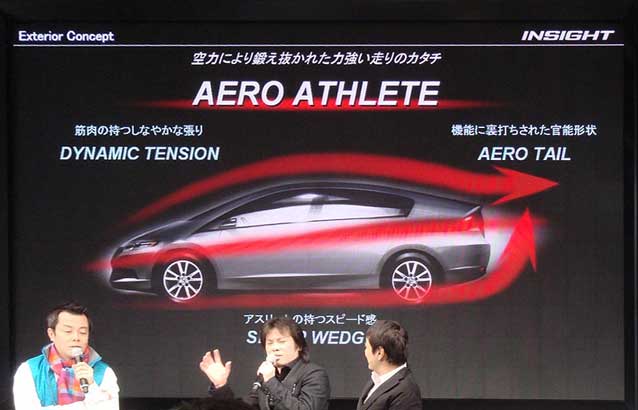 Insight design talk photo by viento 1001
In just the brief 10 days since the new Insight went on sale in Japan, Honda has taken orders for more than 10,000 Insights. This number is double the anticipated monthly sales in the Insight's home country. Clearly there was some pent-up demand left unsatisfied by other hybrids sold in Japan. This number dwarfs the approximately 2,000 Insights Honda sold in Japan throughout the Classic's 7 year production run.
February 24, 2009 update: With close to 15,000 new Insights now on order in Japan, potential owners are being told to expect to wait a month or more for delivery. Honda says production of the new Insight will be increased.
Thanks, again, to my friend, viento 1001, for this interesting photo of the Honda Insight Design Talk conducted at Honda's headquarters in Aoyama on February 8th.
Honda's Beautiful Artsy Hybrid Website
To celebrate every hybrid they've produced since the original Insight, Honda has created their WORDS of Hybrid web page. It's very nice, with words floating around on the screen communicating Honda's hybrid message. Being a site intended for the entire world, it lists upcoming hybrids, including the CR-Z and the Jazz (the Fit in the US, which may or may not come to these shores in hybrid form.
Mugen Discovers the Insight
When Insights were handmade in small numbers, there was no hint that Honda performance equipment manufacturer, Mugen, knew the car existed. But they've taken notice of the new Insight and produced body and suspension enhancements. It does not appear that Mugen is messing around under the hood, however, so the Mugen Insight may corner better, but it won't go any faster in a straight line or get better gas mileage.
February 6, 2009: The Insight Is Again for Sale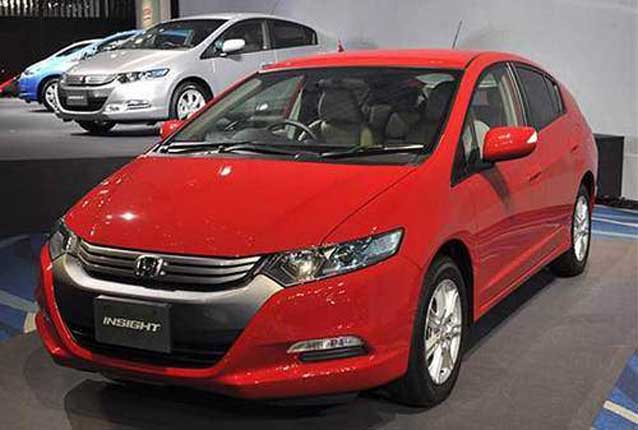 Honda Motor Co.'s brand-new Insight hybrid cars are on display during its unveiling in Tokyo Thursday. (Katsumi Kasahara/Associated Press)
February 6, 2009. Yes, The 2010 Insight went on sale today--in Japan. Eager early adopters who have placed their orders sight unseen in North America must wait until April to own the reincarnation of the first hybrid to be sold on these western shores. The base price in its home market is 1.89 million yen (almost $21,000 U.S.). Unfortunately, the increasing gap between the value of the Japanese yen and the U.S. dollar has made it impossible for Honda to realize the hoped-for sub-$19K price hinted at last year. Honda Executive Vice President, Koichi Kondo, was reported to say that the new target price for the U.S. Insight LX is under $20K. Of course, most buyers will want to spend the extra money to get the EX with its many additional features (especially the Vehicle Stability Assist), provided that the amount of that extra money isn't prohibitive. The top-of-the-line Insight in Japan retails for the equivalent of $23K U.S., but the trim level of that Insight model exceeds that of the EX to be sold in the U.S. The Detroit News writes about this important and happy day in a slightly more objective article.
Honda Green Machine 001 is Snoopy's top choice. Note the leafy green plants that look much like the ones that grow on the Insight's Multi-Information Display.
No, This Quote Did Not Come From Insightman.com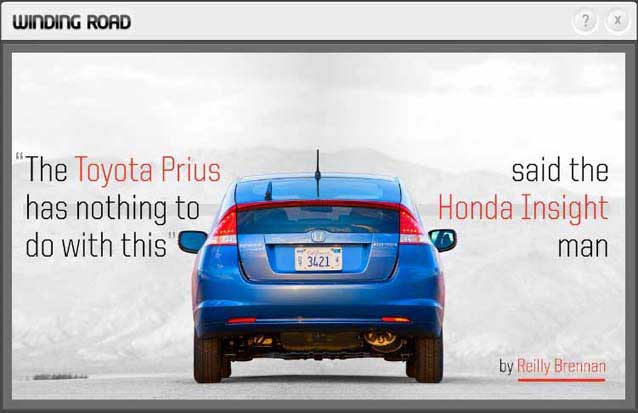 February 5, 2009. Issue 42 of the online magazine Winding Road reviews the 2010 Insight. Unfortunately, the writer, Reilly Brennan, starts out with the assumption that Honda needs "a good cry" to get over how Toyota stole the hybrid market from them. After that, however, Mr. Brennan actually delivers an interesting article.
Canadian Insights More Fuel Efficient?
January 15, 2009. A press release about the new Insight from the Canadian newsgroup, CNW, reports "the estimated city/highway fuel economy rating of 4.8/4.5 L/100km," which equates to 49/52 mpg. The press release includes quotes from Jerry Chenkin, executive vice president of Honda Canada Inc., although it does not attribute these numbers to him.
49/52 is a farsight better than the 40/43 numbers Honda is quoting for the U.S.-bound Insights. I wonder if I can smuggle one of those Canadian Insights through the Windsor Tunnel? (Just joking--the differences between the Canadian and U.S. fuel economy ratings are due to differences in the tests used to produce these ratings.)
Info from the North American International Auto Show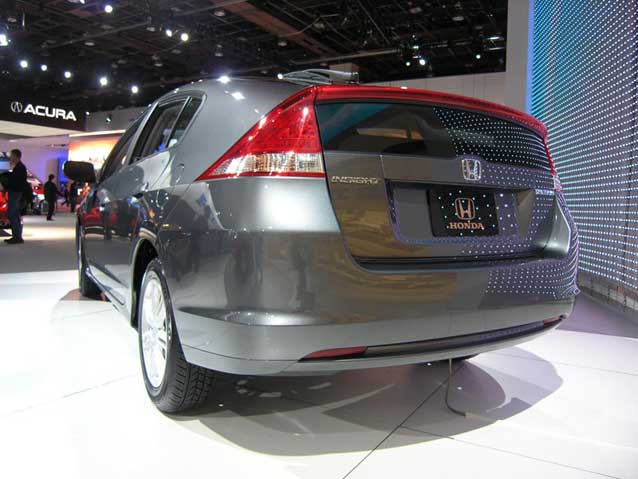 NAIAS Insight photos by Mary Cronin
January 13, 2008. The numbers are real. The official EPA-test mileage ratings for the new Insight are 40 city, 43 highway, 41 combined. Honda decided to forego the mileage-is-all philosophy with the new Insight and concentrate instead on the more difficult task of creating a fun-to-drive, usable, and affordable car that offers better-than-average fuel economy. Something I learned at the show was that manufacturers self-certify the mileage ratings based on tests defined by the EPA. All cars are not tested by the EPA itself.
The fun-to-drive factor comes from the Honda Fit, which has a similar suspension design. The usability factor comes from the convenient hatchback design that, unlike the Honda Civic Hybrid, places the IMA batteries and battery controller below the cargo area, enabling the rear seats to be folded. The affordability factor has yet to be defined because final pricing (rumored to start below $19,000) has not been revealed. Think of the Insight as a sleeker Fit that gets 41 mpg instead of 29.5 mpg.
Here are some corrections to earlier rumors and new information: First, Honda decided just before the show that this is the 2010 Insight, not the 2009 Insight (as previously designated on their website). There will be an LX model and a more expensive EX model. The Insight does carry a spare tire (see above). It's below the cargo deck and above the battery/battery controller package, which Honda calls the Intelligent Power Unit (IPU). The lifetime fuel economy readout has returned (it was omitted from the Civic Hybrid). And the Fuel Consumption bar graph is available on the Multi-Information Display (see above). Unfortunately, fog lamps, parking assist sensors, heated seats, 16-inch wheels, and the display of fuel economy information on the optional Navi display are not coming to North America.
The interiors of North American-bound Insights will be dressed in a color Honda calls "light warm gray" with "dark royal blue" on the upper dashboard. The press materials say that reddish overtones in both colors are designed to create a sense of unity. The seats will come in either "pale warm gray" or "deep blue."
Here are the exterior colors Honda lists for the North American Insights:
Clear Sky Blue (new and exclusive to the Insight)
Spectrum While Pearl (also a Civic hybrid color)
Alabaster Silver Metallic (also an Accord and Civic color)
Polished Metal Metallic (also an Accord and Civic color)
Crystal Black Pearl (also an Accord, Civic, and Fit color)
Atomic Blue Metallic (also a Civic and Element color)
Tango Red Pearl (also a Civic color)
One I Goes Lowercase
The name of the Insight Classic was all lowercase. Next came the "Insight concept" and then uppercase INSIGHT, which appears on the rear of the new production model. But in the latest online rendering from Honda the second "I" in INSIGHT has become lowercase. Here's an example from their latest message to those who sign up for Insight email.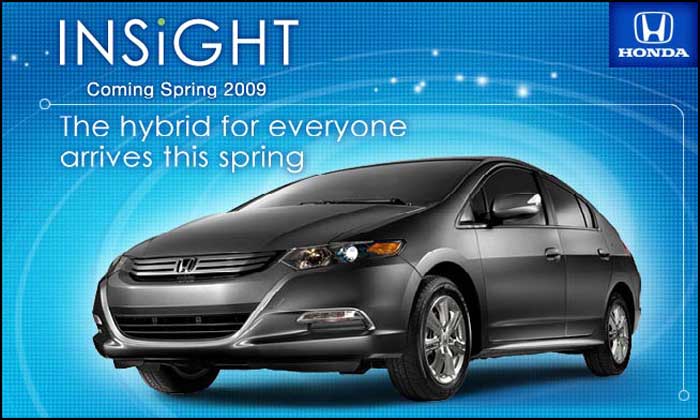 Info About the New Insight's Fuel Economy Emerges
Carscoop has learned that the new Insight achieved a rating of of 4.4 liters per 100 km (53.5 mpg) in the European fuel economy test cycle for mixed city and highway driving. This rating is better than the 4.6 liters/100 km (51.3 mpg) of the Honda Civic Hybrid but not as high as the 4.3 liters/100 km (54.7 mpg) of the Toyota Prius. The Insight's highway rating is 4.2 liters/100 km (56 mpg), which is more fuel efficient than the Prius (the Prius is less fuel efficient on the highway than in the city). So with the anticipated price of the Insight being thousands of dollars less than that of the Prius, it would take a long time for a Prius owner to recoup the difference through fuel savings. The official US Environmental Protection Agency numbers are eagerly awaited.
Photos of Euro-Spec Insight
January 5, 2009. Here are some new Insight photos that appeared today. More photos at Jalopnik
The fog lights indicate this is a non-US model of the new Insight.
Here it is easy to see the sleek new Insight's styling relationship to Honda's FCX Clarity.
As expected, LED taillights. The US Insights have just two reflectors at the bottom.
This vegetation-free world is what the Insight was designed to forestall.
The Multi-Information Display can also show the all-important miles/gallon or liters/100 km readout.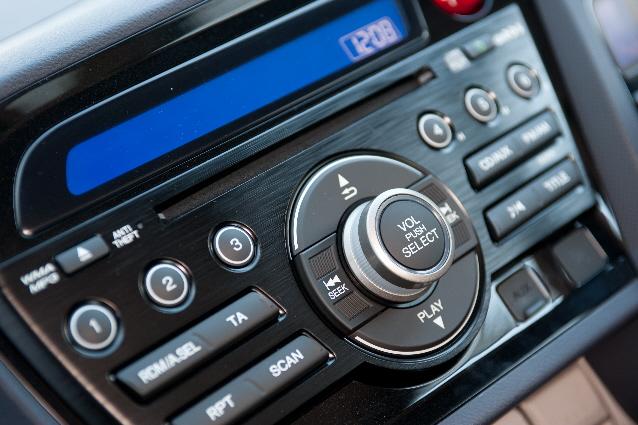 The Radio/CD/Clock unit. An AUX plug in the dash connects to audio devices. A USB connector for iPods is included in the EX-only center console.
On the new Insight, both the driver and front passenger windows are automatic.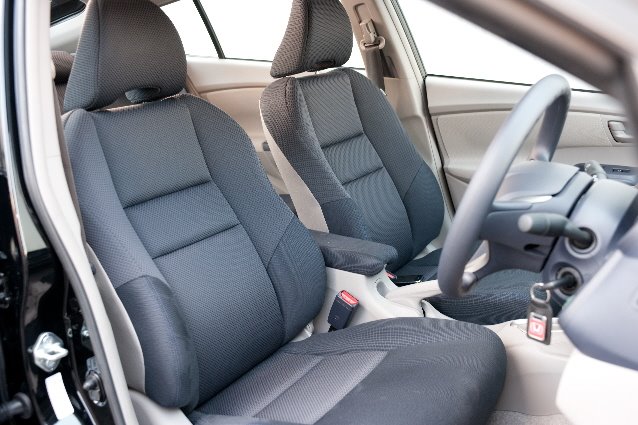 The front seats incorporate a durable fabric on the side bolsters to minimize wear.
Even the center rear-seat passenger gets a headrest. The rear speakers are mounted in the doors.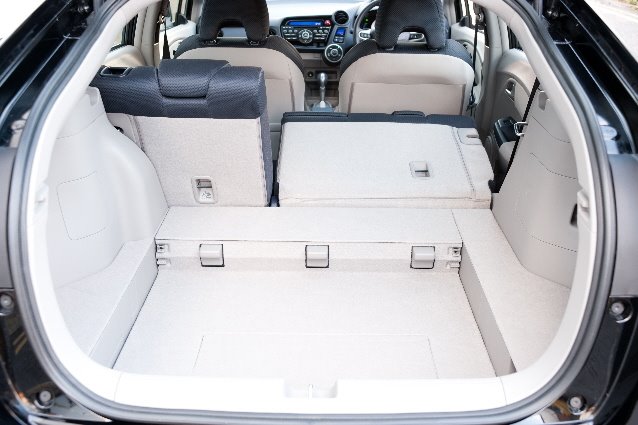 The customary 60/40 rear-seat split. The cargo floor is not in its final form here.
North American-bound Insights carry a spare tire. Here, the lower cargo area floor indicates the lack of a spare.
The storage bin below the cargo area is not as large in North American-bound Insights, which carry a spare tire.
The new Insight's 4-cylinder 88-horsepower engine tops the original Insight's 67-horse 3-banger.
Fuzzy Insight Brochure Appears on YouTube
December 25th, 2008: A Christmas present in the form of a "leaked" 2010 Insight brochure from Japan has appeared on YouTube. It shows the handsome rear view of the car for the first time. As expected, instead of the smooth rear end seen on the Insight Concept, the hatchback's lid is recessed to enable the rear bumper to protect it from damage. Is that a full-width high-mounted center brake light? The wheels in this photo look more aerodynamic than the ones shown on the first official photo further below. Other "leaks" notwithstanding, the floodgates of official information about the U.S. versions of the Insight are set to open on January 11th, when the production Insight is presented to the press corps at the North American International Auto Show in Detroit.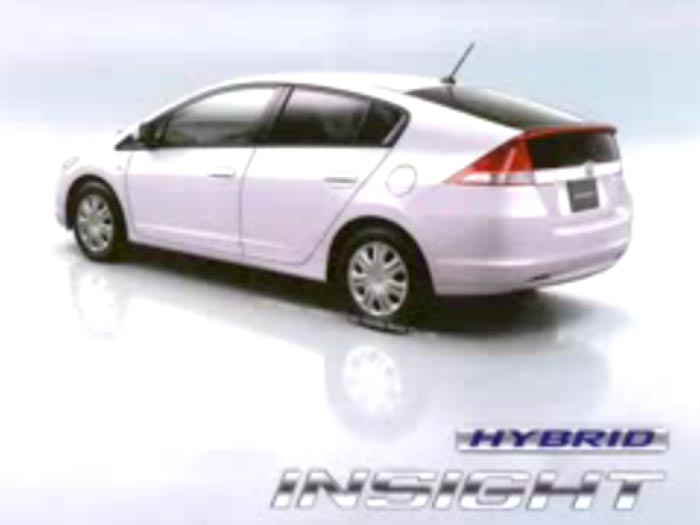 Unverified 2010 Insight Information from Japan
In lieu of any hard information coming from Honda, I'm presenting some unofficial information that a friend of mine, viento 1001, read in a Japanese magazine that says the information came from a product preview meeting for Honda dealers in Japan. None of this information is confirmed for even the Japanese market, much less the United States market, but it's all there is right now. Thank you viento 1001!
Honda will offer the Insight in 3 trim levels: The basic G (customarily labeled DX in the U.S.), L (ie. LX) and the top-of-the-line LS (ie. EX).
Features common to all Japanese Insights:
Ecological Drive Assist System
multi-information display
full-auto air conditioner
projector-style headlights
remote-control body-colored external mirrors
tinted rear windows
security alarm
immobilizer (ignition system verifies chip in key)
15-inch steel wheels
solar-heat-reducing/noise-reducing glass
active front head-rests
tilt/telescoping steering wheel
seat-height adjuster
three rear-seat head rests
flat-tire repair kit (the new Insight carries no spare tire)
The L model adds:
high-intensity discharge headlights with auto light control
turn signals in the external mirrors
leather steering wheel
rear speakers
front/rear arm rests
variable-speed windshield wiper
map light and luggage-area light
driver's seat back pocket
The LS model adds:
16-inch aluminum wheels
Vehicle Stability Assist (VSA)
front fog lights
7-speed paddle shifters
sun-shade tinted windshield
Optional accessories:
navigation system with 7-inch screen and hard disk drive (this system may also display additional fuel economy information and in Japan it may include a TV tuner and ECT, an electronic highway toll payment system)
Honda smart key system
side-curtain air bags
15-inch aluminum wheel for L class
High-intensity discharge headlights
comfort view package plus rear window wiper
The latest Belgian Honda Magazine indicates that Bluetooth, a parking assist system, cruise control, fog lights, heated front seats and rain sensors will be available with the new Insight.
Body color options:
Spectrum while pearl (also a Civic hybrid color)
Milano red (also a Fit color)
Premium deep violet pearl (also a Jazz color, but not a US Honda color)
Crystal black pearl (also an Accord, Civic, and Fit color)
Polished metal metallic (also an Accord and Civic color)
Alabaster silver metallic (also an Accord and Civic color)
Brilliant sky metallic (also a Jazz color, but not a US Honda color)
Interior color options:
Other data:
Length 4390 mm (172.8 inches)
Width 1695 mm (66.7 inches)
Height 1425 mm (56.1 inches)
Wheelbase 2550 mm (100.4 inches)
Weight 1180 kilograms (2601.5 lbs)
Minimum turning radius: 5 meters (16.4 feet)
Engine type: inline 1339 cc SOHC 4-cylinder
Engine generates 88 horsepower @5800rpm and 12.3 kgm torque @4500rpm
IMA motor generates 14 horsepower @1500rpm and 9.4 kgm torque @500rpm
Japanese 10.15 mode fuel consumption test: 30.0 kilometers per liter (which is greater than 70 mpg, but the EPA tests will return lower numbers; the Toyota Prius rates 35.5 km/l or greater than 83 mpg in this test.)
2010 Insight: The Important Numbers
Updated March 10th, 2009
| | | | |
| --- | --- | --- | --- |
| Price | Weight | Coefficient of Drag | Fuel Economy |
| $19,800 | 2723 lbs. | 0.28 | 41 mpg |
December 2, 2008. Honda has released the following photo and a few details about their new Ecological Drive Assist (see below). Perhaps next we'll get to see the rear view. But the numbers that will define the new Insight have yet to be revealed. Another interesting, though not critical, number is the number of wheels. Will the Insight include a spare tire or will it be omitted to save weight and increase interior space? OK, one more number: how many colors will be offered and when will we get to know what they are?
First Photo of the 2010 Insight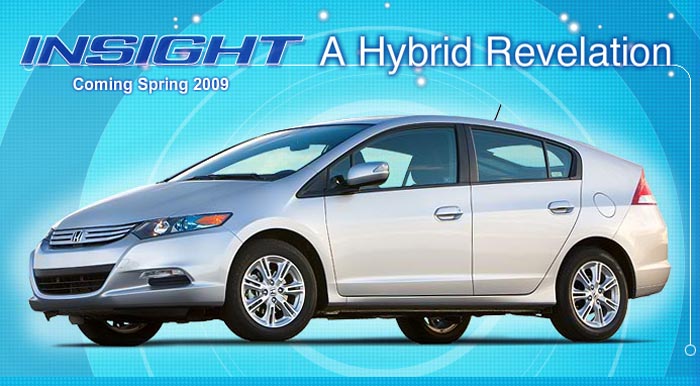 The first photo of the production version of Honda's new 2010 Insight (copied from Honda's Insight website)
The production model carries forward most of the design of the Insight Concept Honda displayed in Paris and Los Angeles. The wheels are smaller. The mirrors, door handles and tail lights are larger. The main lighting is now conventional and the front bumper appears to be body-colored. Still no word on the EPA fuel economy numbers.
Let's take a closer look.
The projector-style headlights are grouped with the turn signal lamp in a boldly styled wrap-around housing.
The upper grille doesn't appear to include the cool blue backlighting of the concept (attention, aftermarketeers). The small panel at the right side is removed to screw in the included tow-hook loop, but knowing Honda's reputation for reliability, it will never be used.
The lower grille provides tabs for mounting front license-plates in states that impose them to simplify photo-radar ticketing. The good news here is that there is no indented area in the front fascia that would look unsightly when front plates are not used. Also, the original Insight required piercing the front bumper with screws to mount the license plate--this won't be necessary with the new Insight, making it more attractive after being re-registered in a non-front-plate state.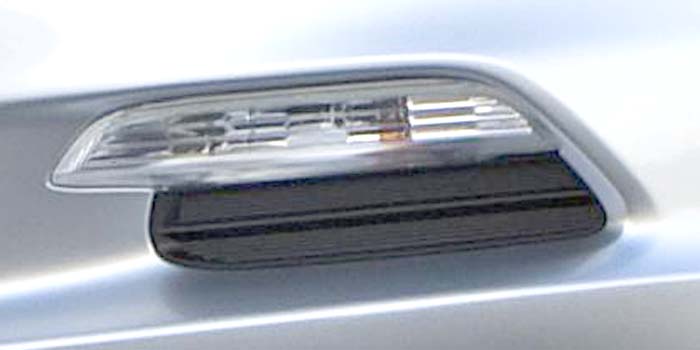 The parking lamps and the black panels beneath them will be removed to create brake cooling ducts for the racing version of the new Insight (just kidding).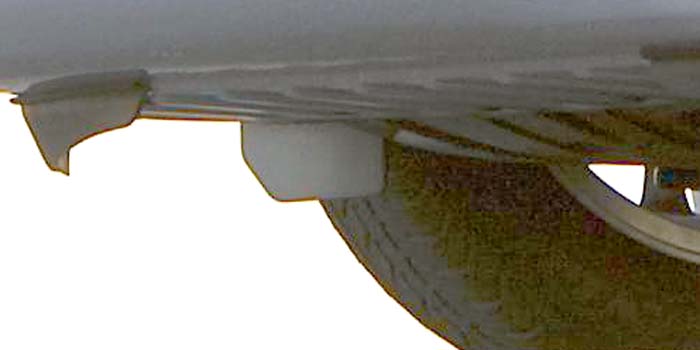 The Insight's flat underbody and strategically placed air-flow control strakes reduce drag and increase fuel economy.
The exterior rearview mirrors include turn signal lamps. The quarter-window in front of the mirror improves outward visibility.
The heating wires in the rear window cover more of the window area than those of the original Insight.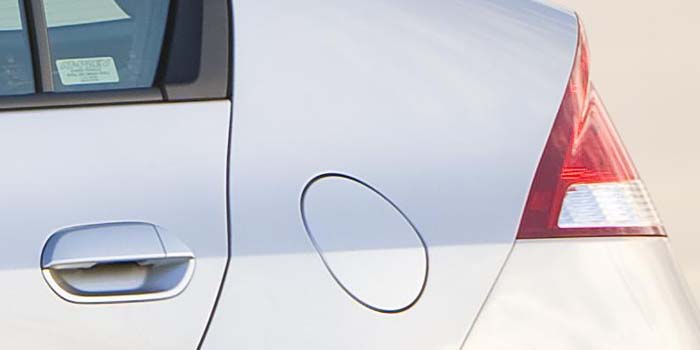 Honda designers sculpted some attractive taillight lenses. They didn't skimp on the red tinting as Toyota did on the Prius. The gas-filler door has migrated to the more convenient left side.
The new Insight's alloy wheels don't appear to be as aerodynamic as those of the original Insight, but we can assume Honda engineers wouldn't allow them if they increased the car's aerodynamic drag.
Honda stylists employed many interesting details to avoid the slab-sided look of that other company's take-off on the original Insight's slippery shape.
New Insight's Ecological Drive Assist System Explained at LA Auto Show
November 19, 2008. Honda sheds some light on the new driver assist function it has created to help you maximize your fuel economy:
American Honda Motor Co. said it plans to introduce its Ecological Drive Assist System, a new interactive fuel-economy enhancement technology, on the new Honda Insight this spring.
Eco Assist combines Honda's driver-activated "Econ" mode that optimizes control of the vehicle's transmission, engine and related powertrain components to conserve fuel, along with a feedback function that uses speedometer background color to provide guidance on environmentally responsible driving.
Also included is a scoring function that provides feedback about current driving practices, as well as cumulative, long-term feedback tracking progress, Honda said.
"Hybrid drivers enjoy trying to get the most fuel economy from their vehicles," Dan Bonawitz, vice president of American Honda, said in a statement. "The visual nature of Eco Assist is intended to help drivers improve their efficient driving skills by making the hybrid experience more fun and rewarding."
The key elements of the 2009 Honda Insight Ecological Drive Assist System
This photo of a Japanese 2009 Honda Insight's dash shows that the navigation system can also display Eco Drive information
Blue indicates you're not driving very ecologically so let up on the accelerator to watch the shade turn to green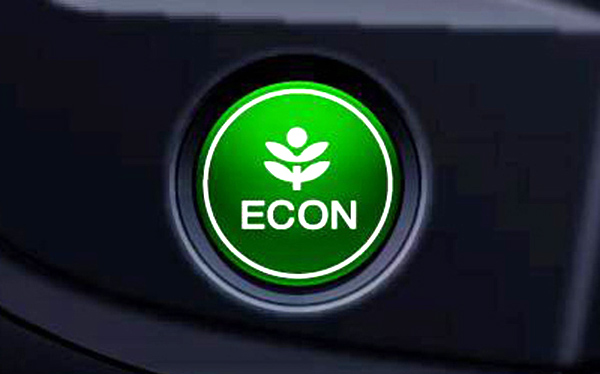 This button configures the 2010 Insight for the best gas mileage by doing things like shutting off the air conditioner at stops.
It also affects the transmission and causes the power regeneration mode to kick in earlier when you begin to slow the car.
At the center of the tachometer is the Multi-Information Display, which has 5 little plant stems that grow more leaves the better you drive
The "B" next to the odometer readout appears to promise two trip meters. An exterior temperature display sits at the bottom.
I have yet to learn the function of the section between the growing leaves and the odometer.
The Multi-Information Display can also show you a score that indicates how ecologically you've been driving--you can even grow a flower!
However, based on the bar appearing only in the "two-leaf" category, I guess this driver has not yet learned how to drive ecologically.
New Insight Concept Revealed in Paris
"The Insight Concept is designed for maximum aerodynamics and good times." -- Honda Insight web page
The new Honda Insight concept car
Rear view
Interior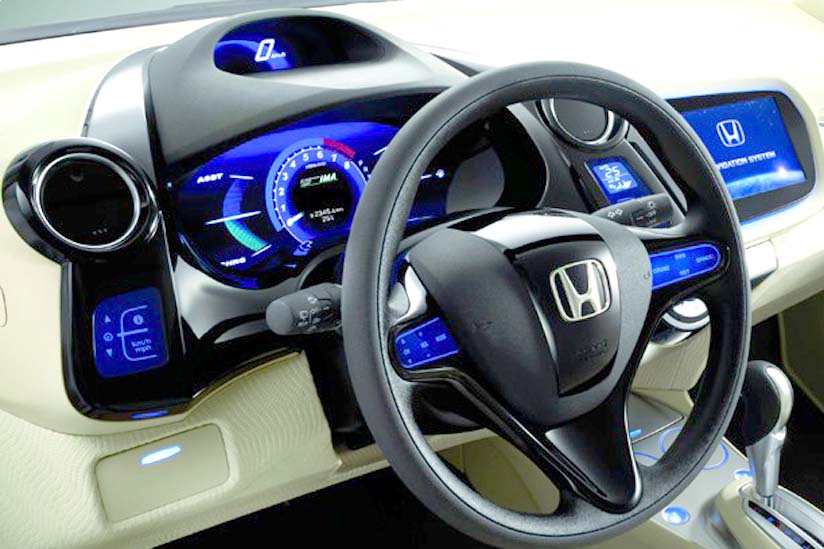 Dashboard close-up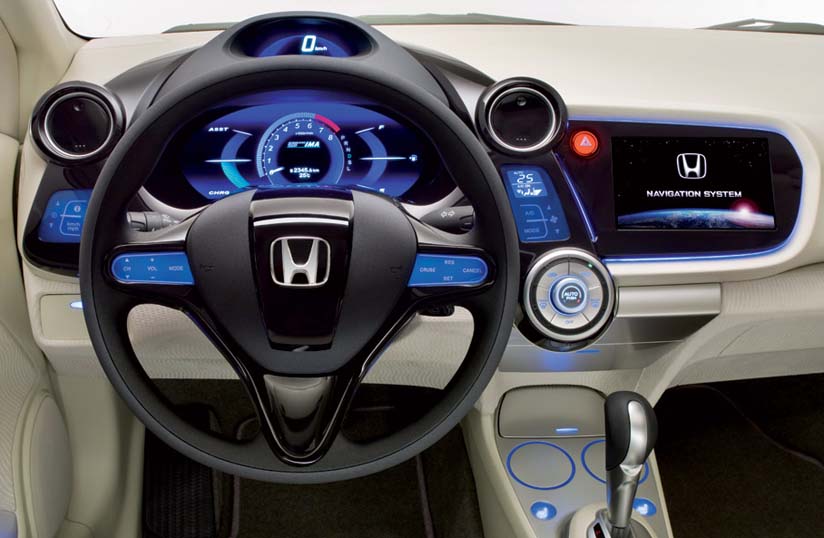 Another dashboard close-up
Blow-up of tachometer/charge/assist/etc. readouts, but where are battery charge and the fuel-consumption bargraphs?
Blow-up of instrumentation and controls surrounding the steering wheel

Blow-up of logotype on rear (notice it's all uppercase vs. the lowercase logotype for the smaller Insight Classic)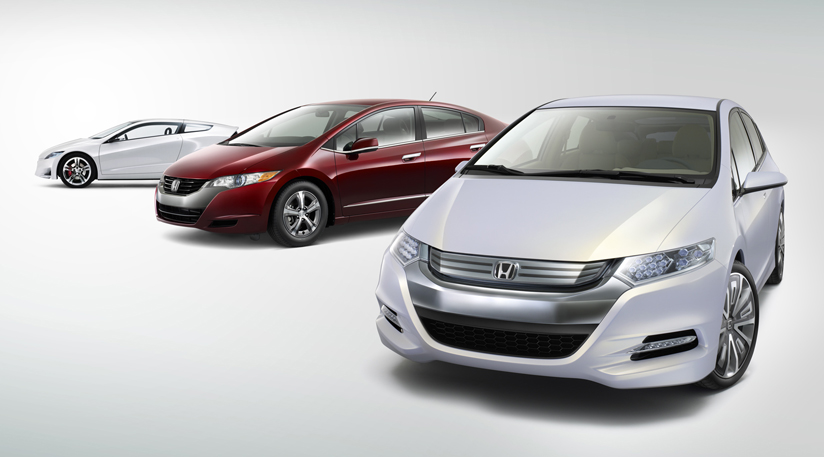 The CR-Z sports hybrid concept car, the limited-production FCX Clarity fuel cell car, and the new Insight concept car.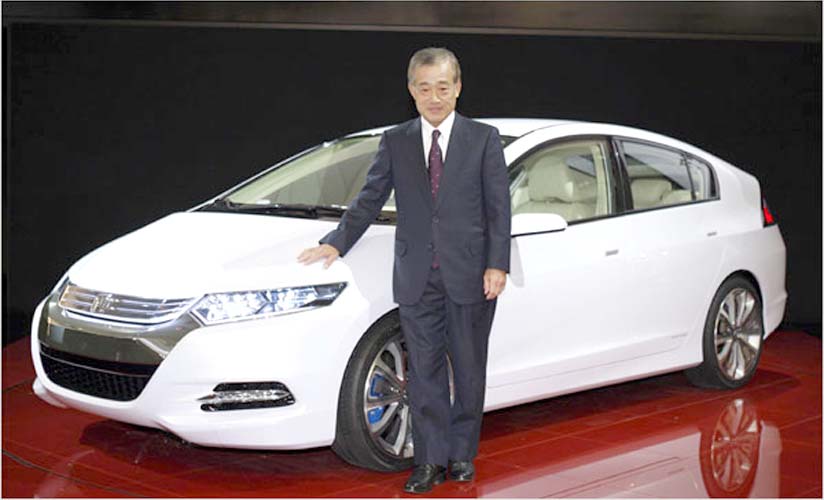 Honda President and CEO, Takeo Fukui shows off his new pride and joy in Paris. Photo credit: Jacky Naegelen/Reuters.
See Honda's video of the Insight Concept here. That glowing blue grille looks great at night. I hope this feature makes it into the production Insight.
For even more photos from the Paris Auto Show unveiling, go to the fabulous Temple of VTEC website.
Two years after discontinuing production of the original Insight, Honda has revealed their next dedicated hybrid automobile and it is to be called (drum roll) the Insight! This concept has now appeared at the Paris Auto Show and the production version is to appear at the North American International Auto Show in Detroit next January. The first deliveries in the United States are scheduled for April 22nd, Earth Day.
What is known about this car is that it will use a version of the 1.3 liter 4-cylinder engine from the Civic but will incorporate a new version of Honda's Integrated Motor Assist (IMA) hybrid system. The IMA battery pack will be located under the cargo area (like the original Insight) so that the rear seat can be folded (unlike the Civic hybrid) to increase cargo space. It's unclear at this time if the new Insight will carry a spare tire. The spy photos of the camoflaged Insight undergoing desert testing show smaller wheels (I'd guess 14- or 15-inchers). The concept car's LED headlights, knife-blade mirrors, and micro door handles won't make it to the production model, either. Instead of being flush with the rear bumper, the tailgate will be recessed, which is a common practice to minimize the vulnerability of the hatch.
By changing the Insight into a 5-seat, 5-door hatchback it's clear that Honda is taking aim at the Toyota Prius. The new Insight is expected to offer better fuel economy and a significantly lower price than Toyota's market-leading hybrid. Honda plans to sell 200,000 of these Insights a year worldwide, with half of that total coming to the United States. In 2001, the peak sales year in the United States for the Insight, Honda sold 4725 Insights. The total for 1999 through 2006 was just over 13,600 Insights sold in the U.S.
Here's one of the most interesting tidbits hinted at on Honda's special web page for this car: "Additionally, various technologies, including a system to assist more fuel-efficient driving, are being installed to further increase practical fuel efficiency." My Insight's Fuel Consumption Display bargraph and digital readout are excellent tools for managing the vehicle's fuel economy. It will be very interesting to see what Honda has come up with to provide better driver assist asistance than these displays.
If Honda's improved hybrid technology can enable this larger and heavier Insight Nouveau (I refuse to call it Insight 2) to approach the still unmatched fuel economy of the Insight Classic, this car will be a major breakthrough and I expect it will be in great demand. I can't wait to see the Honda Insight return to the top of the EPA fuel economy list!
Here's an interesting table lifted from Consumer Reports that compares the dimensions (in inches) of similar automobiles.
| | | | | |
| --- | --- | --- | --- | --- |
| | Honda Insight | Honda Civic | Honda Fit | Toyota Prius |
| Length | 172 | 177 | 157 | 175 |
| Width | 67 | 69 | 66 | 68 |
| Height | 56 | 57 | 60 | 58 |
Bill Kinney, the 88.8 mpg Man
Now that it's been a year since its publication, the December 19, 2006 EV World story about how the amazing Bill Kinney gets 88.8 mpg from his insight is available for viewing without a premium subscription. The story includes EV World's Bill Moore interviewing Mr. Kinney about his techniques for achieving a stunning 88.8 mpg after driving more than 21,000 miles in his 2005 Honda Insight (his third Insight). Click here to read it.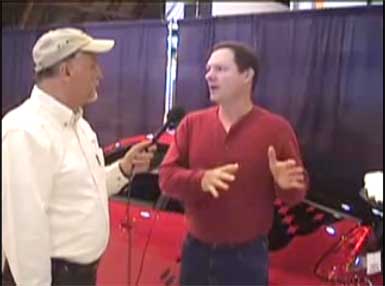 "It's all about changing your thinking," says Bill Kinney.
Insights gather in Japan
Recently a large percentage of the Insights in Japan gathered at the Toyota Automobile Museum. There were 20 of the 2,000 Japanese Insights at the meeting. I was floored to learn that Honda sold only about 2,000 Insights in Japan. And while Honda never offered more than 4 or 5 (depending on how different you consider the two blue Insights to be) colors in the US, Japanese customers could select from a much wider range, including the Berlina Black that I was hoping would appear in the US before the end. A wonderful Insight owner, viento1001, who brought her beautiful Nurburgring Blue Metallic Insight to the gathering sent me these photos, which I appreciate greatly. She told me that even with this number of Insights, owners of the rare Berlina Black and Monte Carlo Blue Pearl Insights were not among the attendees.
EPA Gets Real
Because many people have been disappointed when their new cars cannot achieve the EPA fuel economy estimates shown on the sticker, the EPA has revised the way it estimates fuel economy. The new ratings system takes effect for the 2008 model year. Here are their revised estimates for the 2000 Honda Insight 5-speed, the first (and probably only for a long time) car to achieve a 70 mpg rating. Unlike most hybrid car owners, however, many Insight owners have been able to match or exceed the EPA's origiinal fuel economy estimates. After 58,000 miles, my first Insight's lifetime fuel consumption average was 61.1 mpg (including months of 50 mpg pain during the winter). I routinely exceed 70 mpg during the summer months. Honda, you built a fantastic car for us hypermiling fanatics. Thank you.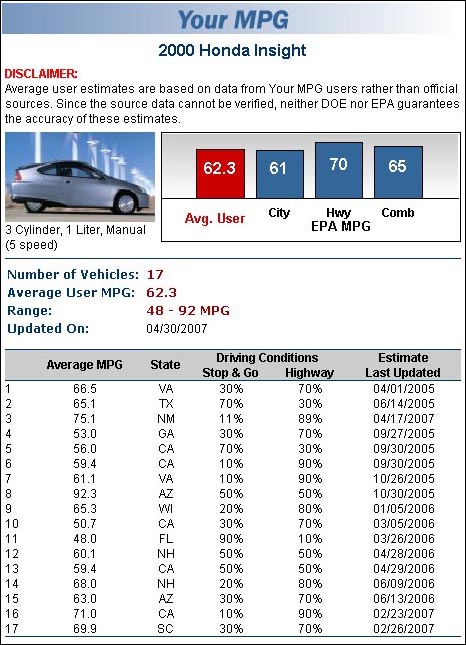 Data source: www.fueleconomy.gov
A new Insight for Insightman
I couldn't resist the last opportunity to continue driving an Insight for as long as possible. I believe it will be the last manual-transmission
two-seat hybrid and I also believe it will be a long time before there's another car sold that can match the Insight's fuel efficiency.
From left: my 2006 Insight, Sales Consultant Jason Brinkman, Insight Service Expert John Donnellon, Dealer Howard Cooper,
Insightman, Sales Manager Jim Weasel, Service Manager Brad Stegemann, Service Adviser Don Durham, and my 2000 Insight.
On the 55 mph ride home from Howard Cooper Honda, my 2000 averaged 81.0 mpg; my 2006 Insight, 86.9 mpg!
The World's Fastest Indian Insight
143 mph with 200 mph "in sight!" Check it out!
Honda Extends Battery Warranty to 150K Miles*
*for certain year Insights in certain southern locations
VEHICLES AFFECTED
This warranty extension affects all 2000 04 Insights registered in the states of Arizona, California, Colorado, Florida, Hawaii, Nevada, and Texas, the shaded states on this map. (Source: Honda Service Bulletin 06-027, May 27, 2006)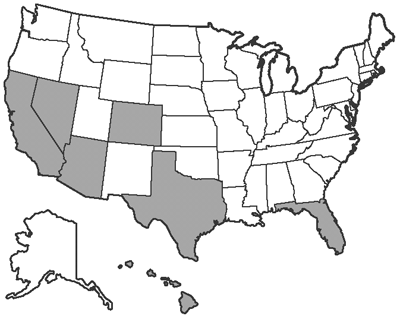 BACKGROUND
To ensure continued reliability with the IMA system, American Honda is announcing an IMA battery warranty extension for certain 2000 04 Insights. The IMA battery is now covered for 10 years or 150,000 miles, whichever occurs first. This warranty extension applies only in states where there is an abnormally high replacement rate for IMA batteries.
CORRECTIVE ACTION
Replace the IMA battery if it has failed.
WARRANTY CLAIM INFORMATION
NOTE: The IMA battery warranty extension does not apply to any vehicle that has ever been declared a total loss, or any that has been issued a salvage, branded, or similar title under any state's law.
RIP Insight
May 17, 2006, a dark day for America's first and still most fuel-efficient hybrid car.

Today Autoweek reported that Honda Executive Vice President Richard Colliver told them that Insight "production will stop in September of this year and be discontinued." He also revealed that Honda will bring out new hybrid in 2009 that will be smaller than the current Civic. Autoweek also reported that Honda's CEO, Takeo Fukui, said the new hybrid vehicle will be "suitable for family use" and will be priced below the current Civic hybrid.

Other sources have reported that Honda will transplant the Insight's IMA engine into the Honda Fit. Based on Mr. Colliver's time frame and the fact that the Fit is in its fifth year of production, it would seem reasonable to assume that Honda is waiting to put the Insight's engine into the next-generation Fit.

The Temple of VTEC website contains this information from the 2006 Mid-Year Speech by CEO Takeo Fukui:
Honda is now developing a new dedicated hybrid vehicle suitable for family use in major automobile markets in the world. With this new dedicated hybrid vehicle Honda will achieve further advancement of fuel efficient technologies and a major cost reduction, which will enable Honda to offer this vehicle in 2009 at a price level lower than the Civic Hybrid.
Production of all-new, more-affordable, dedicated hybrid vehicle, including the hybrid unit, will be produced at Suzuka Factory. The worldwide sales plan is approximately 200,000 units per year that includes projected North American sales volume 100,000 units.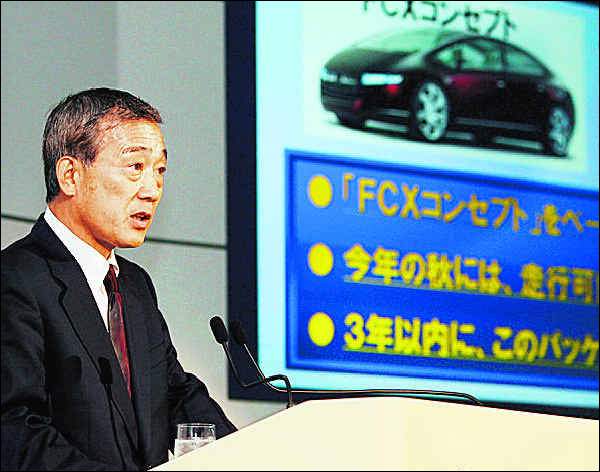 Honda President Takeo Fukui giving his 2006 midyear speech.
The pictured car is likely Honda's next fuel-cell powered vehicle.
(KAZUHIRO NOGI/Getty Images-Agence France-Presse)
So perhaps Honda is planning a unique body for the Fit hybrid or--as the Detroit Free Press indicates--an entirely new platform for the Insight's replacement. After abandoning the Insight, Honda will be hard pressed to regain the Insight's top spot on the EPA fuel-efficiency list (perhaps the only reason the Insight has remained in production so long). To achieve that status the 2009 hybrid will have to be more than just a Fit with an Insight engine. It will need to incorporate some of the new technologies employed in the newest Civic hybrid, such as the ability to run on electric power alone. Still, it will very difficult for a family-sized hybrid to approach the fantastic fuel efficiency of the all-aluminum, ultra-aerodynamic, two-seat Insight.
And the Insight will likely be the last Honda hybrid to sport a manual transmission, even though it gives the driver much more control over the allocation of fuel (my wonderful Insight delivered 80.3 mpg on a 108-mile drive from Ann Arbor to Saugatuck on the west side of Michigan last week). Every day I'm reminded that the Insight is the most efficient point-A-to-point-B tool this side of a moped. Hopefully the Insight nameplate be reserved for the next no-holds-barred high-efficiency example of Honda's technical brilliance. I'd hate to see it stuck on anything that fails to exceed the original Insight's 70 mpg EPA rating. Anything less and they might just as well call it the "Hindsight."
As Insightman weeps at this unfortunate--though not unexpected--news, he wonders why in this era of wallet-busting gasoline prices, only 320 people so far this year chose to purchase the little car that could, the incredible Honda Insight.
Thank you, Honda, for the best car I've ever owned. I expect to be driving my old number 221 for many happy years to come. [September 1, 2006 correction: Insightman caves in and buys the last 2006 Insight to be delivered to Howard Cooper Honda.]
Honda Fit Hybrid to Replace Insight?
March 2006: Not much has been happening with the Insight for the past few years. New Insights now use the same windshield wiper blades as the Civic and cruise control is finally available, but the Insight's reason for being, high gas mileage, has not advanced since the car was designed in 1999. Indeed, many owners have seen their gas mileage actually degraded by Honda's updates to the Insight's engine control module.

The rest of the automobile industry has failed to come up with a serious challenger for the Insight--many Insight owners living in warm climates with flat terrains have managed to keep their lifetime averages above 70 mpg. So year after year, the Insight maintains its top spot in the mileage charts, eliminating any reason for Honda to make any changes to it's lowest-production automobile. So the advances in gas/electric hybrid technology that Honda has developed for the Civic and Accord hybrids has not been extended to the Insight.

Toyota is probably the only company with the technology necessary to develop a competitor for the Insight, but they're content to have far and away the best selling hybrid with the Prius. Even though Prius owners are often disappointed when they realize it's impossible to match the EPA's mileage figures for their car, they're happy to be doing their part to reduce the damage they're causing to the environment.

The Insight's death knell may have been sounded by the arrival of a Honda Fit hybrid. The Fit has been sold in Japan and Europe as the Jazz since 2001 and, as the Civic has grown with each new version, Honda decided to bring the Fit to the US to take the Civic's place as its entry-level offering. But with an EPA rating of 33 city/38 highway miles per gallon, the Fit falls short of the larger Civic's 38/40 EPA estimates. What's up with that?

The obvious fix is to add Honda's IMA hybrid technology to the Fit. CNet's news.com reported that the Japanese business daily Nihon Keizai claims that Honda is developing a smaller motor and battery to reduce cost and weight. Nihon Keizai says Honda will twin the hybrid unit with a one-liter engine for the Fit and this combination will be able to match the fuel efficiency of the Insight.

There's not much hope that Honda will update the Insight or even continue to manufacture it after the Fit hybrid appears. Surely, if Honda would install this newer drivetrain in the Insight, the Insight's lower weight and better aerodynamics would move it's EPA numbers to levels never before seen, but the tiny number of Insights being sold in this era of record-high gas prices all but ensures this update will not happen.
THE INSIGHT LIVES!
5/21/03 I just saw a color chart for the 2004 Hondas at my local dealer, Howard Cooper Honda. The Insight was included! There's even a new color, Navy Blue Pearl, which replaces Monte Carlo Blue Pearl (these two dark blues looked pretty much the same to me). New Formula Red and the trusty old Silverstone Metallic continue to be available. After noting that the Insight wasn't included in Honda's brochure of 2003 cars, and reading the interview with Tom Elliott, it looked like the Civic Hybrid would be Honda's only Prius-fighter. With the slick new bigger and faster 500-volt 55 mpg Prius about to debut this fall, I'm very happy to learn that Honda will retain the high-mileage crown. Thank you, Honda! (And thanks for not bringing the black Insight to the US, because that would cause me to trade in my trusty old number 221 and require me to spend a lot more time washing my Insight.)
The Ann Arbor News revisits Insightman
Amy Whitesall, ace reporter for the Ann Arbor News, recently took a ride with me in my Insight to learn if the car is as fantastic as I've been telling everyone or if Insightman is just a fanatic. She learned that both cases are true and wrote a story about my infatuation with this highest-tech vehicle and a few other high-tech toys (eg. my Moulton SPEED bicycle) that I've collected over the years. You can see the article text on the Ann Arbor News' website.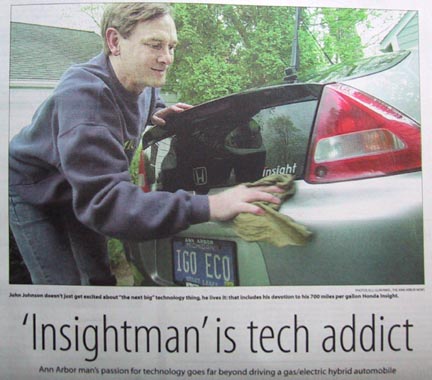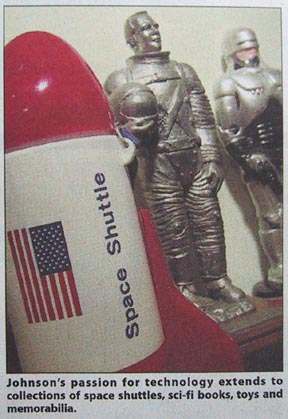 TWO YEARS OF GAS-SAVING BLISS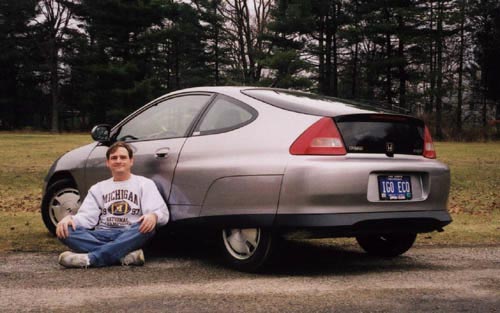 My, my. Can this fabulous high-tech car really be two years old already? I guess that the advent of the higher-tech Civic Hybrid from Honda makes it tough to deny. But although the Civic Hybrid includes a few new tricks (eg. the ability to turn off 3 of its 4 cylinders to reduce friction when decelerating), its 50 mpg capability still can't match the MPG king, the 70 mpg Honda Insight! I filled up only 37 times in two years while driving about 21,000 miles and achieving an average miles-per-gallon figure of 59.2.
It's the winters that kept me from averaging over 60 mpg. When the thermometer is above 60 degrees F, it's not very difficult to achieve 65-70 mpg, but when the mercury drops below 30 degrees F, it's tough to squeeze more than 55 miles from each gallon. It's not the winter blend of gas or the snow tires I mount in the winter because the fuel economy climbs dramatically along with the thermometer. The answer must be that combustion is just not as efficient when the temperatures are lower.
A SULEV Insight?
If you were amazed as I was at the SULEV label on the side of the silver Insight on the turntable at the 2001 North American International Auto Show, don't be. A Honda rep at the show told me the label was a mistake and that the ULEV label on the blue Insight on the show floor was correct. A SULEV Insight would have made the Union of Concerned Scientists happier, but I guess you'll have to buy a SULEV Accord if you want to drive a Honda with lower emissions than an Insight.
Now, I've heard that the SULEV Insight is coming--to California. This higher level of low emissions was reportedly achieved by eliminating the lean-burn feature of the Insight's engine, and by burning the special low-sulphur fuel that is not available in most of the US, but which is available in California. It will be interesting to see how this change affects the Insight's fuel economy.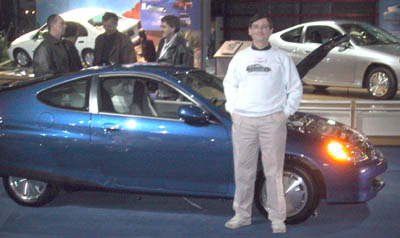 Insightman meets Monte Carlo Blue Pearl Insight
At the show, I was disappointed that the Honda/Toyota hybrids haven't spurred any competition whatsoever. Ford didn't even bring their hybrid Escape to the show, although they were claiming it will get double the regular Escape's 18 mpg--a feat that I will be very interested to see them accomplish.
Auto Show Prius/Insight Gathering a Success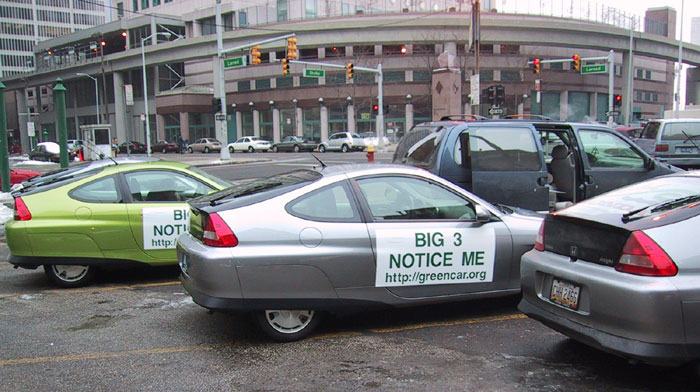 On January 7, a coalition of national environmental groups including Union of Concerned Scientists, NRDC, Environmental Defense, the Ecology Center of Ann Arbor, and the Michigan Environmental Council held a press conference and an Insight/Prius gathering prior to the Detroit International Auto Show. A bunch of Insights and Priuses met near Detroit Metro Airport and drove in a convoy to downtown Detroit. There, they attached BIG 3 NOTICE ME signs and paraded around the streets near Cobo Hall, where the North American International Auto Show is getting started. The press was on hand to film the hybrids. The teaser for the evening news said that they would be showing a protest action from the auto show. A milder protest was never seen, as these quiet hybrids (OK, so a couple of cars were honking their horns) drove by the cameras showing their static-cling signs. Hopefully the press will see that there are people clamoring for these clean machines. See more pictures.
Read about the event in the Detroit News: http://www.detnews.com/2001/autoshow/0101/08/a04-173013.htm
For more information about this campaign, contact Jeff Gearhart Campaign Director Ecology Center 117 N. Division Ann Arbor, MI 48104 (734) 663-2400 x117 (734)663-2414 jeffg@ecocenter.org http://www.ecocenter.org, or, as you can see in the picture http://greencar.org.
Insight die-cast models available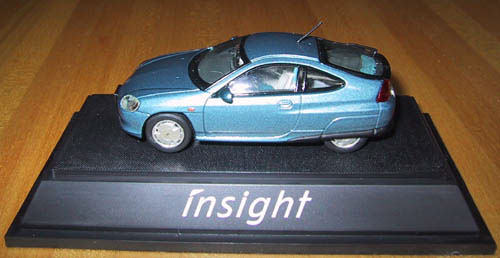 Style over substance: PT Cruiser bests Insight, Prius for 2001 North American Car of the Year
January 8, 2001--The vehicle Daimler-Chrysler calls a truck for legislative reasons, but somehow qualifies as a car because it's based on the old-tech Plymouth Neon, was named by 50 journalists as the 2001 North American Car of the Year in conjunction with the North American International Auto Show. The other two contenders for the award were the Honda Insight and Toyota Prius. On a brighter note, showing how quickly they can rise to the top of any industry segment they tackle, Honda, er, Acura, won the 2001 North American Truck of the Year award with their new MDX. I wonder if Ford had told the journalists that the Excursion was their new super-luxury-size car...
The Insight is still news on local TV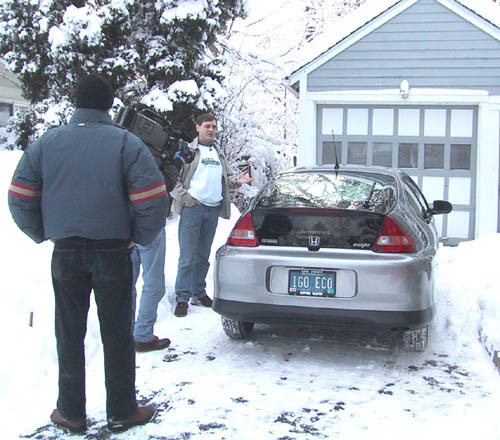 WXYZ TV Channel 7 News interviewed Insightman. They included a short visit to my house in their report on the Honda Insight. The station loaned their borrowed red Insight to a local family of four. The limited seating was illustrated by showing mom and her two daughters walking out to the car and then we see the Insight driving away, but one daughter is left behind in the driveway. Other than that problem, the family liked driving the Insight.
They asked local Honda luminary, Andy Boyd, if there was a local Honda Insight owner who wouldn't mind being interviewed. Somehow my name came up. WXYZ producer Sandy McPhee sent Jeff Pekarek and Tim Barry into the cold temperatures and deep snow to drive from Detroit to Ann Arbor. Tim, the cameraman, started the tape with a full-frame shot of the silver 2001 Insight poster on my study wall. Then he pulled back to show me sitting at my laptop computer. Moving behind, the camera caught the screen displaying this home page just as the WXYZ logo scrolled into view. I was mumbling something like, "people all over the world have seen this website."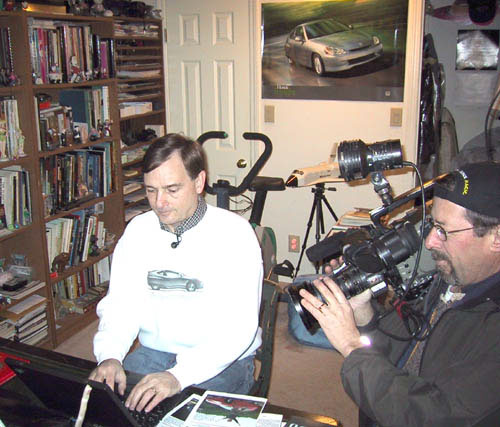 Next, we went outside to turn the camera to the real star, the Insight. Again, I was mumbling something silly like, "I got 120 miles per gallon downhill once." Why didn't I say 150? To get a shot of me driving from the "back seat" view, Tim, the cameraman was dedicated enough to hang part of his body out of the open hatch while he operated the camera and I drove down the bumpy ice- and snow-covered street. Despite his dedication, however, that part didn't appear on the air.
Business Week likes the Insight, too
"Green Machine: At last -- an enviro-chic car. Honda's $20,000 two-seat Insight runs on a gasoline engine/electric motor combo and gets up to 70-mpg. Honda will build 6,000 cars next year. Rivals have come up with hybrids or plans to do so soon." -- "The Best Products of 2000," BusinessWeek, December 18, 2000.
2001 brings a new Insight color to the US

This beautiful Monte Carlo Blue Pearl replaces Citrus Yellow (not my favorite) to join Silverstone Metallic and New Formula Red in the three-color Insight line-up for 2001. I never got used to that color, but I know some people love it. Other than this color and the optional Continuously Variable Transmission (CVT), the Insight remains the same for 2001 (and 2002 and 2003).
Well, one other thing is different: it gets only 68 mpg in the EPA highway mileage ratings. The reason for the drop from the 70 mpg rating of the 2000 Insight is a matter of optional equipment. The only optional equipment offered by Honda for the Insight is the air conditioning system. Of course, because Honda wanted to achieve the highest possible mileage rating when they introduced the Insight, they used an Insight without the air conditioning system. Less weight; less drag on the engine. However, because so many people purchased the A/C in the first year that it became necessary to use an air-conditioned Insight for the EPA tests. So the "average" Insight produces two mpg less in the EPA highway test than the Insight for northern climes.
It's my experience that the A/C can draw more than 2 mpg, but then I never turned it last summer on unless it was sweltering and the system was required to run at 100% of it's capacity.
As much as I was put off by the Citrus Yellow (green to most people), I'm attracted to the new blue. I would like the nearly black Insight that is sold only in Japan even more. But I really like my Silverstone Metallic Insight because it hides the dirt better than a dark color. That's especially significant on a car that not only can't use mud flaps (they would probably suck away 5 mpg or more all by themselves), but that tucks the rear edge of the front wheel well behind the tire for better aerodynamics.
Insightman License Plate Confusion
No, my father is not Philip Morrison. If you read the October Scientific American with the "Hybrid Vigor" article about Mr. Morrison's son's Insight, you know that his son's license plate reads "IGO ECO" just like mine. My dad is Bruce Johnson and his son had the first Insight with the license plate "IGO ECO." I was amused when I was asked on the street if Philip Morrison is my father so I thought I'd clear up the confusion by the plethora of IGO ECO license plates.
The REAL Insight Man
"Gaining New Insight Into Aluminum Body Production," remarks by Kazuhiko Tsunoda, Chief Engineer, Honda Insight, Honda R&D Co., Ltd. The mastermind of Honda world-champion racing motorcycles and race cars tells how he created this miracle car on a budget.
The Other Company's Hybrid

Insightman meets Prius (that other company's hybrid)
Insight Owner The only independent national print magazine dedicated to owners of the Honda ultra low emission vehicle, the hybrid-electric Insight automobile from Honda. Publisher, Larry Dussault will even send you a free copy!
Honda Insight Sets Thailand Fuel Economy Record
OH MI INsight gathering in Columbus, Ohio, July 29 See the pictures.
Insight Devotees get together on North Carolina Shore August 12-13
Senator Bob Bennett (R-Utah), chairman of the Senate High-Tech Task Force, is the proud new owner of a high-tech car--a 2000 Honda Insight. Read all about it--with pictures
Check out the August Kiplinger's Personal Finance magazine, page 160, for Ed Henry's great article, "Coast to Coast on Four Fill-ups." The article quotes me and fellow Insight owner and friend, Christian Jenkins. And thanks to NYC photographer, Jeff Mermelstein, there's a dramatic photo of my Insight about to achieve warp drive in front of a rural electric power station (well, I'll admit it's not as dramatic as John Wayland at the drag races, but it's a nice photo by Mr. Mermelstein--especially considering the horrible rainy weather that day).
The August Consumer Reports took a "First Look" at the Insight and they weren't very impressed. They said, "The Insight drives a lot like other small cars, but it feels slower, and you must shift the 5-speed stick often to get the car up to speed and keep it there. Handling isn't so agile, either. On bumpy roads, the ride is stiff, almost harsh. That ride, the small cabin, and pervasive road noise can be fatiguing on long trips. There's also little room for luggage." It was clear that the testers didn't get the hang of driving the Insight because they achieved less than 50 mpg in all situations. As all experienced Insight drivers know, it takes some practice to achieve 70 mpg. I hope Consumer Reports assigns one of their testers to learn how to drive an Insight before they conduct the full test in a later issue. It would be a shame if they insist on driving it like a BMW throughout the test.
July 21st: the Washington Times likes the Insight: Honda Insight hybrid fuels efficiency.
June 12th: See the new Insight promotional brochure (a verrrry big file scanned large for readability)
June 8th, Press Release: Honda Insight owners achieve more than 90 MPG in Tour de Sol road rally
June 7th, Win an Insight: http://www.myfree.com/ffs.html (refresh contest page for different Insight colors)
June 4th: Insight in New York Times http://www.nytimes.com/library/auto/wheels/000604auto.html (you have to sign in, but it's free)
May 31st, Results from the Insight MPG competition at the Tour de Sol
May 31st, Detroit News' reviewers Paul and Anita say, "Insight hybrid is out of sight"
May 30th, MSNBC tests the Insight
May 26th, Honda announces "mass market" Civic hybrid for 2001 (from Temple of VTEC)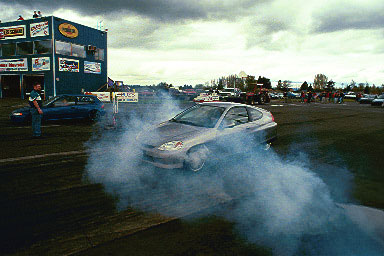 John Wayland in his Insight, Sniffer, at the drag strip.
There's a great story about John Wayland's irresistible call from the seductive siren, the quarter mile, on the Electrifying Times website: Sniffer Goes Drag Racing. John has another story on this site about the trials and frustration he experienced in his quest to own an Insight: Trying to Buy an Insight. [Do I dare try this stunt at home? No, if there's a pro in electric drag racing, it's John Wayland--Insightman.]
Insight and Me after 4000 miles
After 4,000 miles, I'm having more fun than ever as I hone my abilities to work with the engine to increase my fuel efficiency. I'm slowly atoning for my post break-in exuberance, when my lifetime average fuel economy plunged to 51 miles per gallon. I just got my lifetime mpg number up to 54. George Yeager in Ohio got his lifetime mpg over 60 the other day--I guess he didn't go through the same exuberant phase I did.
When I'm in a hurry or forget that I'm driving an Insight (it can happen), my gas mileage usually hovers around 55 mpg. When I'm in a hurry but I pay attention to the current fuel mileage bar graph, I get around 60 mpg. When I'm not in a hurry and I pay attention, I get around 70 mpg. If I go crazy and have the road all to myself so I can creep up hills, I can break 80 mpg. On the first leg of my 82 mpg personal record 15-mile round trip to work, I achieved an amazing 91.1 mpg!
I've found that it's good to have at least 2/3 of full charge in the Integrated Motor Assist (IMA) battery pack before a personal record attempt. That way, you can accelerate from a stop sign or stoplight quickly, using the IMA system to help the gas-burning engine get you up to the speed limit. Hopefully, you will have some opportunities along your route to replace the charge through regenerative braking while coming to a stop or coasting downhill in gear. If you don't replace the charge this way before it gets below 1/2, then the system will initiate recharging while you're cruising along (it will stop recharging when you press on the accelerator). This parasitic cruise-mode recharging doesn't slow you down much, but it's certainly not going to help you achieve a personal record.
After you get away from the stop sign (or stop light), you just have to keep one eye on the road and the other on the current fuel mileage bar graph to work on that personal fuel conservation record. Sometimes you'll be flying with the graph showing 150 mpg. Then, to get over a mild hill, you may have to surrender some fuel and accept a 100 mpg reading. Through practice and experimentation, if you keep following the same route, you can learn how to cope with each set of hills to minimize the time you spend below 100 mpg.
It's so disappointing when you have to speed up abruptly to avoid hampering the progress of a non-Insight driver behind you. Like a house of cards tumbling down, you watch a carefully nurtured 78 mpg trip average plummet into the 60s in seconds. The Insight burns gas almost like a regular car when you push it, the difference between the Insight and a regular car is that when you coddle it, your reward is gas mileage unheard of just a year ago. I love this car!
JohnE Johnson, aka Insightman
(aka by my friends as they guy who won't shut up about his blankety-blank Insight)
Ann Arbor, Michigan, USA
PS. Thank you again, Marlene, for giving up your parking space so I can enjoy my beautiful Insight outside my office window all day long (even when the sun is reflecting off its shiny metallic silver surface making it really hard to see my computer screen).
PPS. July 4th, at 6,500 miles I'm still having a great time trying to squeeze better mileage from my Insight. My lifetime reading is up to 56.4 thanks to a 75.9 mpg return from Moline, IL to Ann Arbor, MI a week ago. I haven't bettered my 91.1 mileage, though. It's amazing to hear that some people have been able to get their lifetime readout over 70 mpg. My hat's off to them, I know it's not easy!
---
Paranoid disclaimer: Other than being a long-time loyal Honda customer, I have no official affiliation with the American Honda Motor Co., Inc. I'm providing this site only to enlighten the public about something that interests me: the Honda Insight automobile.